Date & Time (Beijing) :

Nov 11, 2021, 4:00 pm - 5:45 pm
Date & Time (Brussels) :

Nov 11, 2021, 9:00 am - 10:45 am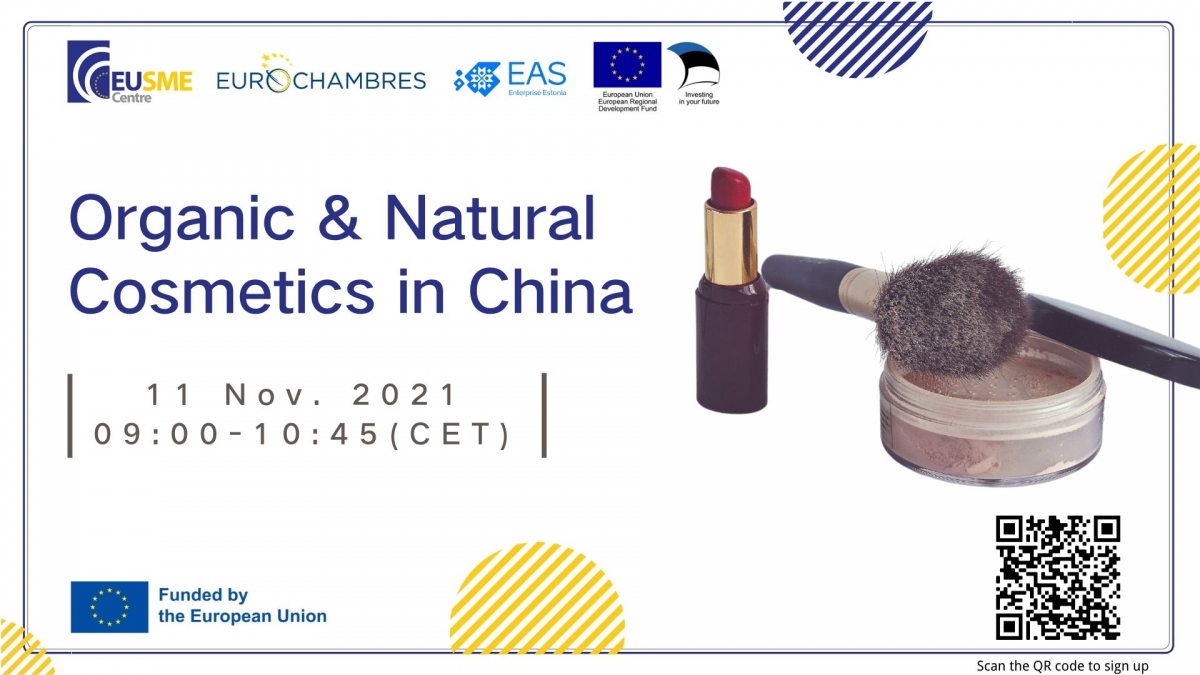 China's cosmetics sector has been growing rapidly in recent years. Back in 2020, the country became the world's second largest cosmetics market after the US. China's appetite for cosmetic products has a distinct global flavor as more than half of Chinese cosmetics consumers prefer foreign brands over local ones. The natural and organic cosmetics industry has also witnessed an increasing demand for "natural", "organic", "sustainable" or "green" tags. These tags are the new drivers of consumer purchasing preferences in China's cosmetics sector.
Despite the potential opportunities that this segment offers to foreign brands, China's regulatory framework doesn't yet recognize this subcategory and the authorities hold a cautious attitude towards these new notion. It is therefore crucial for companies, particularly SMEs that are new to the market, to understand the regulation on organic and natural cosmetics in China and therefore ensure full compliance when preparing the market entry strategy for this kind of products.
This workshop organised by the EU SME Centre, EUROCHAMBRES and Enterprise Estonia, has the objective of giving SMEs practical advise on what to keep in mind when planning to sell Organic and Natural cosmetics in China while sharing best practices.

You can find the recorded webinar on YouTube here:
Agenda:
Please note: The below times are in CET

09:00 – 09:15: Opening speech by EAS
- Presentation of the EU SME Centre and the speakers

09:15 – 09:45:How to market organic and natural cosmetics in China
─ the state of 'organic' and 'natural' as marketing/product claims in 2021
─ Ecommerce Data and consumer sentiment
─ Case studies
─ Consumer recognition of European organic certifications
─ Closing remarks and realistic recommendations for European SMEs

09:45 – 10:00: Q&A

10:00 – 10:30: Step-by-step process for exporting cosmetics to China
─ Regulatory barriers for 'organic' and 'natural' cosmetics
─ China cosmetic regulatory background
─ Interpreting the application procedures and dossiers for registration and notification
─ Post-market surveillance of cosmetic products and suggestions

10:30 – 10:45: Closing remarks and Q&A
About the speakers