Fruit market in China can be divided into three different submarkets: fresh fruit, dried fruit and frozen fruit markets. However, this report will focus on the fresh fruit market due to three main reasons:
Quantities for frozen and dried fruits imported into China from the EU are very low or even non-existent.
The consumption of dried or frozen fruits in China is low and the market is not growing. On the other hand, fresh fruit consumption in China is growing steadily, especially for premium and imported fruits.
Distribution channels work different for each market. E-commerce platforms, convenience stores and fruits shops are the main channels for fresh fruit, while frozen fruit is mainly sold in supermarkets and hypermarkets and dried fruits in convenience stores to be consumed as a snack.
Production of fresh fruit in China follows the same seasonality as EU producers, making local fruit production the main competitor for EU fruit exporters and leaving a narrow market niche for EU fruits, mainly in the premium segment.
In addition, there are also technical barriers from Chinese authorities to export fruit to China. Firstly, China needs to sign a bilateral agreement (export protocol) with the exporting country, which specifies the fruit species and other export requirements. After this agreement is signed, companies need to be approved and registered annually and follow the requirements on the protocol and by Chinese Customs to export to China.
Once the fruit arrives into China, it needs to be distributed to reach the final consumer. The vast majority of the imported fruit goes through wholesale markets to local distributors and then to retail, although some large platforms or hypermarkets take care of their own imports and fruits go directly from the port to their shelves. Fruit stores, E-commerce platforms and convenience stores are the fastest growing sales channels for fruit, E-commerce having the largest offer of imported fruit.
Main drivers for fruit consumption in China are appearance, flavour and price although country of origin and packaging affect consumers purchasing decision too.
This 66-page market report covers the following aspects:
Market Size
EU Fruits Performance in China
Drivers of Fruit Consumption in China
Distribution Channels of Imported Fruits in China
Differences Between Fruit Retail in China and the EU
Case Studies
Import Duties
Recommendations for EU SMEs
Tradeshows
List of Frozen and Dried EU Fruit Protocols
About the Authors
Daniel J Pedraza Nogueira, China Director at Eibens Consulting

Daniel Pedraza is Director for China at Eibens, a consulting firm specialized in China's agrifood industry. Eibens assists private companies and government trade promotion agencies dealing with market access issues and trade compliance. It also supports their business development and communication efforts in traditional and online channels.
He is a specialist on trade compliance and marketing for foreign F&B companies in China. He is also responsible for Eibens day-to-day business operations in China.
Daniel has lived and worked in China for over 6 years. Prior to joining Eibens, Daniel worked for the European Union Chamber of Commerce in China and EXTENDA, the trade promotion agency of the Government of Andalusia-Spain in Beijing. He holds a master's degree in International Business from EOI Business School and a Double BA in Business Administration and Economics from the University of Malaga.
Liam Jazcii, Business Development Advisor at EU SME Centre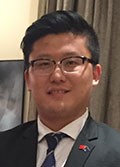 China expertise: market entry strategy, cross-border e-commerce, food & beverage, marketing strategies for SMEs.
Liam is a versatile self-starter and an avid learner with working experience in advising European businesses in market access and business strategies in China. Solid experience in the EU working context over the past 5 years and in all aspects of large-scale events and trade mission organisation and management. Liam manages as well, a large network of EU-Sino field experts serving the demands of business enquiries from European SMEs.
Prior to joining the EU SME Centre, Liam served as the Marketing and Membership Manager at the Benelux Chamber of Commerce in China.
This report was published during the EU SME Centre in China Phase II (2014-2020), which was funded by the European Union (ICI+/2014/346-276).
The report was drafted in collaboration with external creators, who worked under service agreements with the Consortium running the EU SME Centre Phase II. The copyrights and intellectual property of this publication belong to the Consortium partner China-Britain Business Council. The latter was authorised by and acted on behalf of the Consortium running EU SME Centre in China Phase II. The China-Britain Business Council, which is currently part of the Consortium running the EU SME Centre in China Phase III, has granted the rights of use of this report to the current Consortium. The report is therefore re-published and made available during the EU SME Centre Phase III.