Home
>
Calendar
> Smart Technologies and Industrial Software | Experiences with Doing Business in China
Date :

Sep 27 3:00 pm - 4:30 pm, 2022
EU Date :

Sep 27 9:00 am - 10:30 am, 2022
Venue :

CICC Shanghai Office
Address :

N. 777 Weihai road, 2nd Floor, Room 202, Jing'An District Shanghai 上海市, 静安区, 威海路777, 2楼, 202 室
Hybrid Seminar
Smart Technologies and Industrial Software
Experiences with Doing Business in China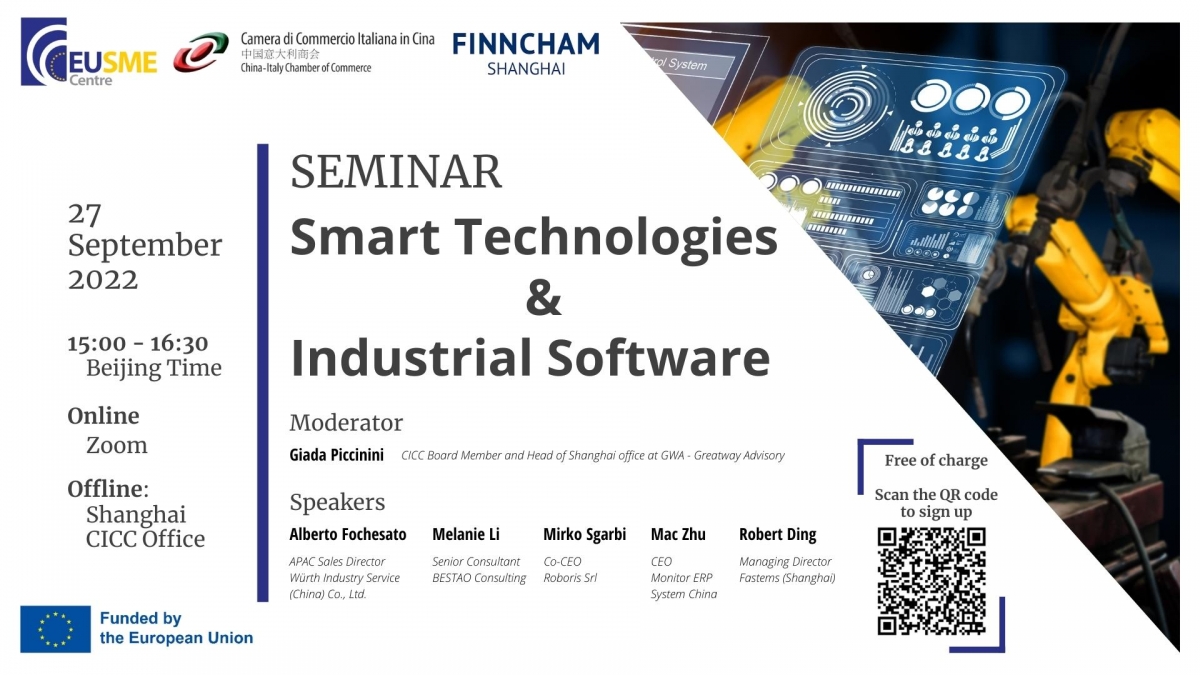 Industrial Software is at the heart of Industry 4.0 revolutionising the way companies manufacture, develop, perfect, and distribute their products in an increasingly digitalising economy. Underpinned by the Chinese government's plans and supporting policies to upgrade the manufacturing capacity of the Chinese industry into a technology powerhouse, the industrial software market in China is booming, with the current market size exceeding RMB 200 billion and an annual growth rate over 15%.
While competition in this sector is getting tougher, technological solutions and knowhow of the European smart manufacturing and information management solutions providers continue to be sought after, making industrial software an attractive sector for European SMEs. In October, the EU SME Centre will publish a comprehensive report on Industrial Software, covering market access regulations, supporting policies as well as identifying opportunities and challenges in the market.
This training will provide an overview of the market and help European SMEs to understand the challenges and opportunities in the field of industrial software in China. It will also cover the market entry regulations and policies that determine the development of market. Participants will be able to learn from the experience and best practices of SMEs active in China's industrial software market.
This hybrid seminar will be held in English. The event is open to all interested SMEs from the European Union and from countries participating in the Single Market Programme (Iceland, Norway, Liechtenstein).
The seminar will be held on 27 September 2022 simultaneously online via Zoom and hosted offline in Shanghai in the office of the China-Italy Chamber of Commerce.
Click here or scan the QR code below to register: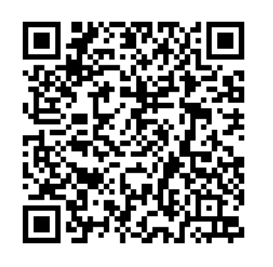 Agenda
15:00 - 15:05 Words of welcome
Presentation of the EU SME Centre and CICC
Introduction of speakers
Moderator: Giada Piccinini, CICC Board Member and Head of Shanghai Office at GWA - Greatway Advisory
15:05 - 15:30 Industrial Software EU SME Centre Report overview
Melanie Li, Senior Consultant, BESTAO Consulting
15:30 - 16:15 SME Experience sharing with:
Holomaintenance Mixed Reality Platform for Remote Assistance, with Alberto Fochesato, APAC Sales Director at Würth Industry Service (China) Co., Ltd

Eureka Virtual machining: Advanced simulation and optimisation of NC programs for CNC and industrial robots, with Mirko Sgarbi, co-CEO of Roboris Srl

ERP - The Backbone for a Company to Grow, with Mac Zhu, CEO of Monitor ERP System China

MMS (Manufacturing Management System) in Metal Cutting Industry, with Robert (Yongping) Ding, Managing Director of Fastems (Shanghai) Co., Ltd.
16:15 - 16:30 Q&A Session
Speakers
Melanie Li, Senior Consultant, BESTAO Consultant
Melanie Li is a senior consultant at BESTAO Consulting. She is responsible for providing compliance solutions to our global clients intending to enter the Chinese market. Her expertise covers multiple product areas, including industrial software.
Prior to joining BESTAO consulting, she had been working in a leading German manufacturing company and a large Chinese home appliance company in tandem for more than 10 years. Her career was mainly dedicating to automated production management and products quality control. Her focus was on the procurement and implementation of advanced design and production solutions and ensuring the quality of products in their whole life cycle.
In addition to production and quality management, she has extensive knowledge of China's product regulatory policies and systems, such as CCC, China RoHS, etc.
Alberto Fochesato, APAC Sales Director Of Würth Industry Service (China) Co., Ltd.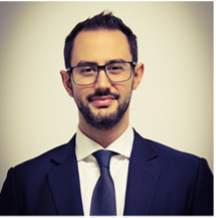 Alberto Fochesato is Italian and has been living in Shanghai since 2011. He holds a Master's degree in International Business and Chinese Language from the Ca' Foscari university of Venice. He started to work for Würth Industry Service China in 2012 and was tasked with managing the company's International Key Accounts. He is currently the Sales Director China and has been responsible since 2019 for the whole Asia Pacific region. He has been conducting trainings globally in the matter of Sales Skills and Management.
Mirko Sgarbi, co-CEO of Roboris Srl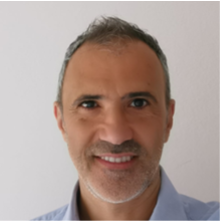 Mirko Sgarbi is Italian, born in 1972, and graduated in Electronic Engineering. After many years of experience in industrial software development, he founded Roboris Srl together with Mr. Gianluca Bioli in Pisa in 2001. Roboris is a leading developer of CNC machines software solutions, especially for simulation and optimisation programs.
Mac Zhu, CEO of Monitor ERP System China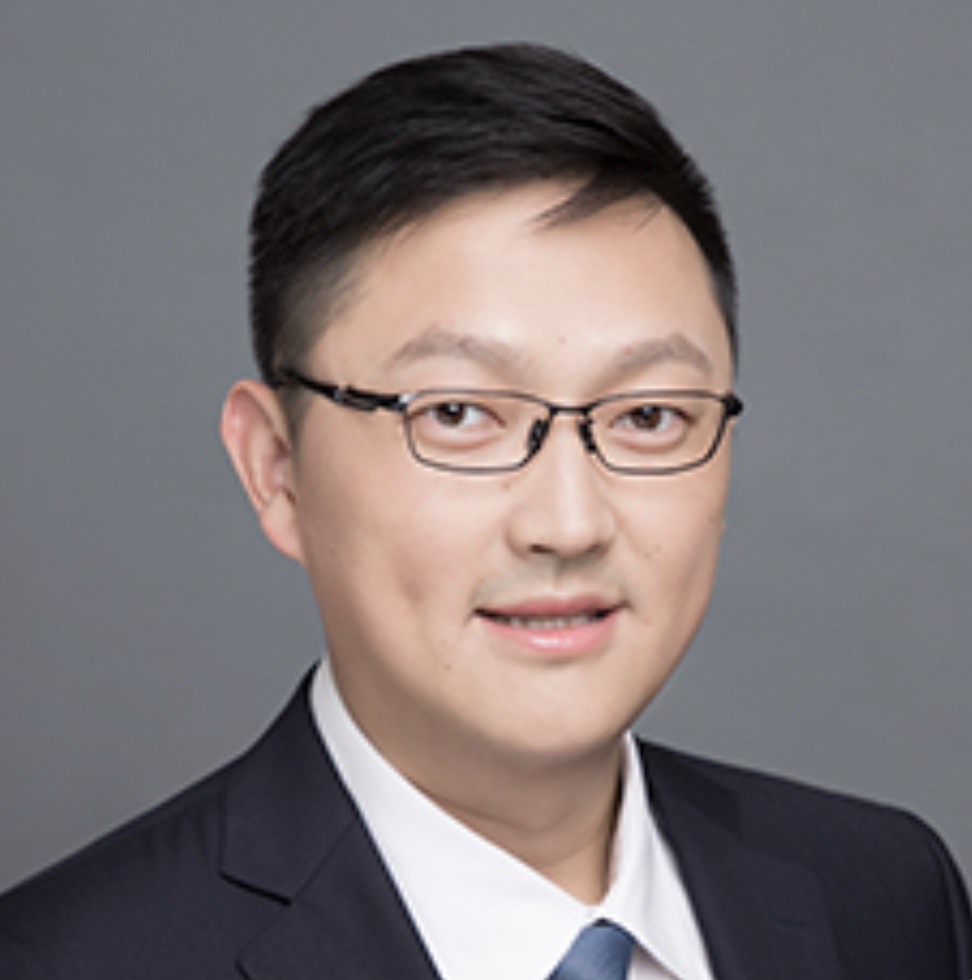 Mac Zhu has more than 15 years of ERP implementation and project management-related work experience, with rich experience in enterprise process analysis and optimisation, and enterprise transformation strategy implementation.
Robert (Yongping) Ding, Managing Director of Fastems (Shanghai) Co. Ltd.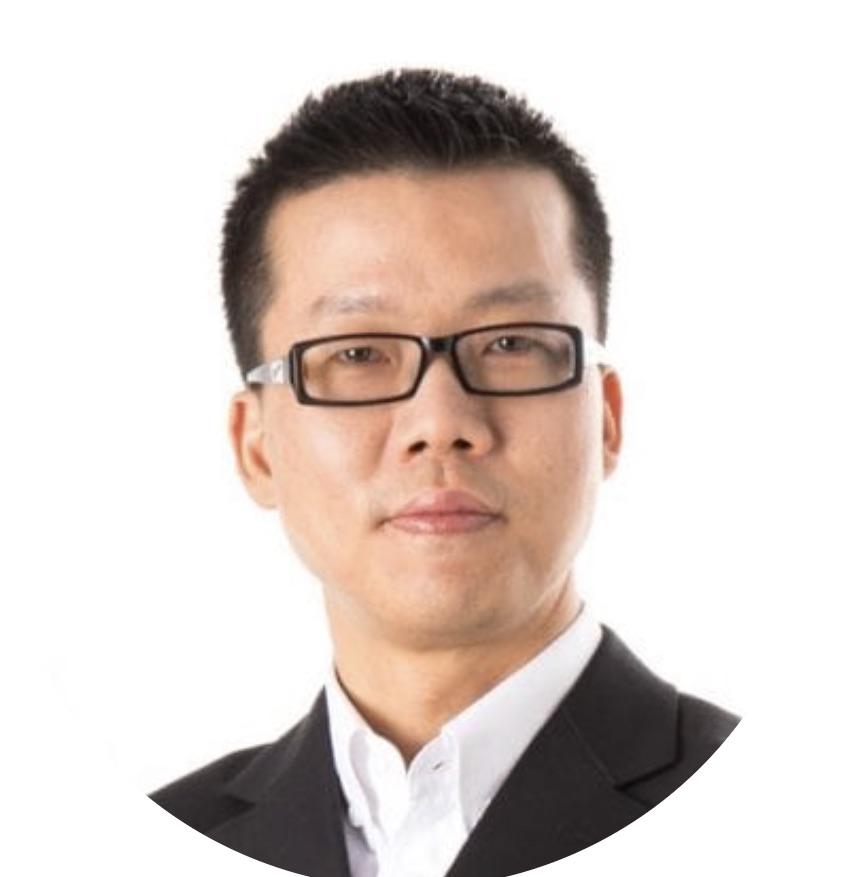 Robert (Yongping) Ding has a business and management educational background in both China and Finland. He has over 20 years of work experience in MNCs - sales, marketing and general management. He has worked in automation around metal cutting over 10 years in China with Fastems - smart automation for mixed production.