Home
>
Knowledge Centre
> Introducing Xiqing Economic -Technological Development Area in Tianjin (XEDA)
Location
Tianjin is one of the four municipalities in China, the strategic spot in the Integration of Beijing, Tianjin and Hebei. It's the most dynamic and capital-intensive region. It has been developed into the"third growth pole" driving the Chinese economy.
Xiqing District is located in the southwest of Tianjin, 2/5 of Tianjin Outer Ring Road is within the boundary of Xiqing District. With superior geographical location, Xiqing District has a symbiotic relationship with the downtown. The total area of Xiqing district is 570.8km2 with a population of 1.35 million.
XEDA was established in 1992, approved as the state level economic development area by the State. Over 2003 enterprises registered in XEDA, a total investment is 20.445 billion USD (until March, 2016).Total planning area is 150 km2 of which 16.88 km2 industrial zone has been completed.
The Development Situation of XEDA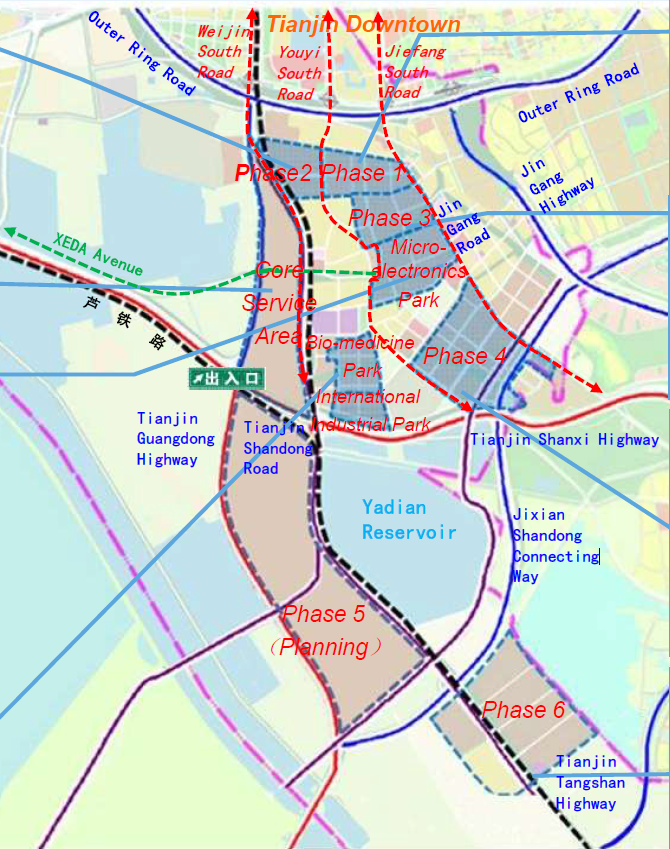 The first phase of XEDA:
Major Industry: IC production & package, electronic devices & component, pharmacy, food, etc.

Major enterprises: SMIC, NXP, Panasonic, Takeda, CaloCao, etc.
The second phase of XEDA:
Major Industry: electronic devices & component , daily commodity

Major enterprises: P&G, Schlumberger, Jabil Green point, etc.
The third phase of XEDA
Major Industry: engineering machinery, micro electronics, auto-components, pharmacy.

Major enterprises: Jtekt, Parker, Turck, Somic, Vishay, Furukawa, Fuji Film ALPLA, etc.
The fourth phase of XEDA:
Major Industry: Automobile parts, machinery, electronics

Major enterprises: Blue Moon, Heng An, Jabil, Hexcel, SKF, Mahle, GMT, Honda, Denso, Schutz, Eirkboff, Chamteck, Takata, Mistsui Chemicals, etc.
The fifth phase of XEDA (planning)
The sixth phase of XEDA:
Major Industry: Automobile parts, machinery, new materials

Major enterprises: KOBELCO, GLP. Goodman, MORESCO, DHL, USAS, etc.
Core Competitiveness of XEDA
The most superior geographical location

The most abundant human resource

The minimal preliminary input cost

The maximal operation benefit

The best service environment

Micro, Small and Medium Enterprise Comprehensive Service Centre
*Located at building C of Sci-Tech Park, the Mall covers an area of 26,700 m2. It is designed to be a modern complex consisting of industries of science and technology, finance, and human resources, etc.
Structure of Industry and Investment in XEDA

Contact
To learn more about XEDA, contact XEDA Investment Promotion Bureau 2:
Website: www.xeda.gov.cn
Tel.: 022-83963902
Email: liwen.qian@xeda.gov.cn
Mr Owen Qian
________________________________________
The information in the article was provided by Xiqing Economic – Technological Development Area, Tianjin, China