Rai Amsterdam was established in 1893, originally as an association for the bicycle industry which has over the past century grown into an international leading trade fair and conference organization. The Rai China office was founded in 2014 and a physical team set up in 2019, led by Simon Ding. Rai China has taking the lead of organizing Interclean China the past couple of years.
Rai has the goal to help industrial companies to enlarge their networks and to bridge Chinese and international companies. The exhibitions organized by Rai have the purpose to enhance the communication between Europe and China on specific industries for the interest of both European and Chinese companies. Rai also organizes matchmaking for European companies to meet with potential Chinese buyers or distributers, to minimize risks and resources of the companies.
Due to the Covid-19 pandemic, physical exhibitions worldwide were forced to be postponed or canceled. As many other event organizers, RAI was also faced with the same challenges. Travel restrictions made it very difficult, if not impossible, for European companies to attend the physical exhibitions organised in China.
The EU SME Centre collaborated with Rai China and showed support in the Interclean China Exhibition 2021, organized by Rai China. The fair was organized as a hybrid trade fair due to the current global situation of the pandemic. For the participants unable to join the exhibition offline, RAI facilitated an online platform, which acted as a virtual exhibition. This provided the possibility for European exhibitors and visitors to still participate in the fair, talk to potential interested partners and buyers. Among many others virtual exhibitors, the EU SME Centre also had a virtual booth where European companies could reach out and ask questions related to market access or sector specific issues in China. More than 1000 users were registered for the online platform.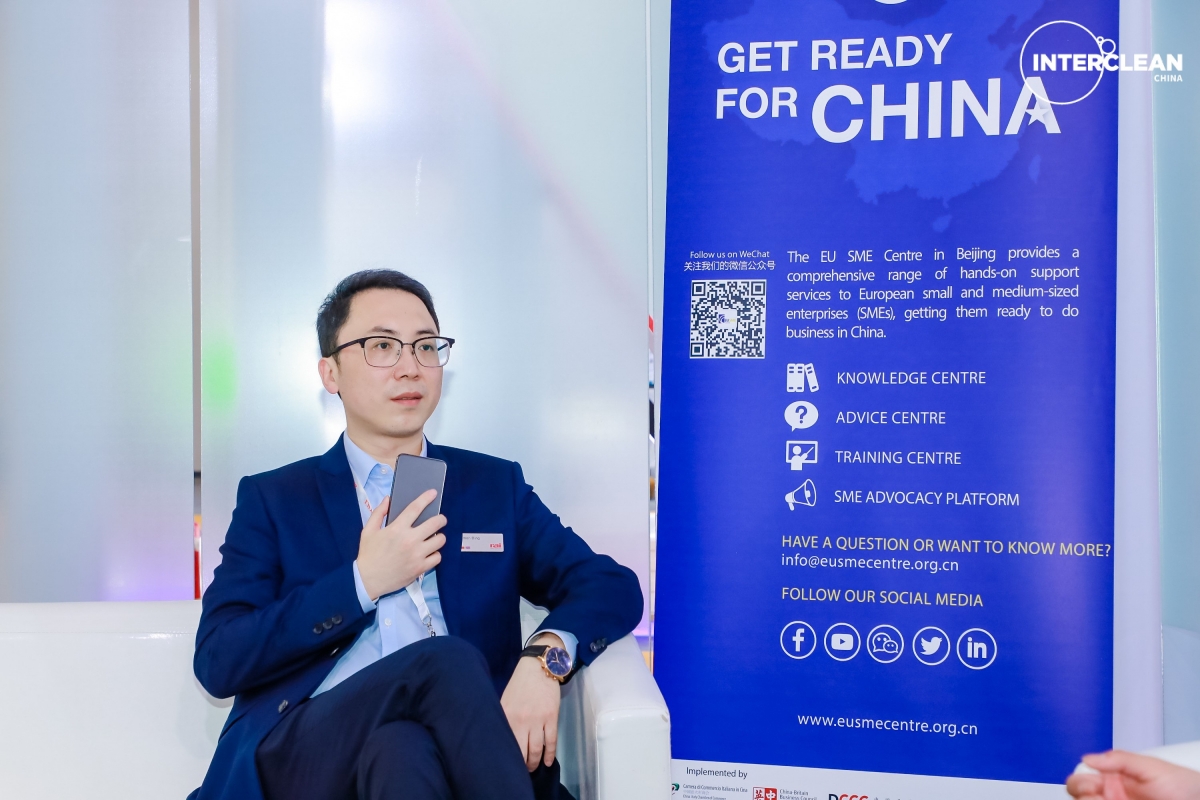 As part of the event, the EU SME Centre in-house expert, Liam Jia, participated in a webinar, both prior and during the exhibition, on the opportunities and challenges in the Chinese Cleaning market for European SMEs. His presentation on how EU SMEs can tap into this market in China was broadcasted two times, both prior and during the fair, on the online exhibition platform. For the offline exhibition, the EU SME Centre provided support by having an information stand with a team of in-house experts to answer any questions that participants might have had. The EU SME Centre Director, Renzo Isler, also participated in the opening ceremony of the Fair.