Date & Time (Beijing) :

Apr 22, 2021, 3:00 pm - 5:00 pm
Date & Time (Brussels) :

Apr 22, 2021, 9:00 am - 11:00 am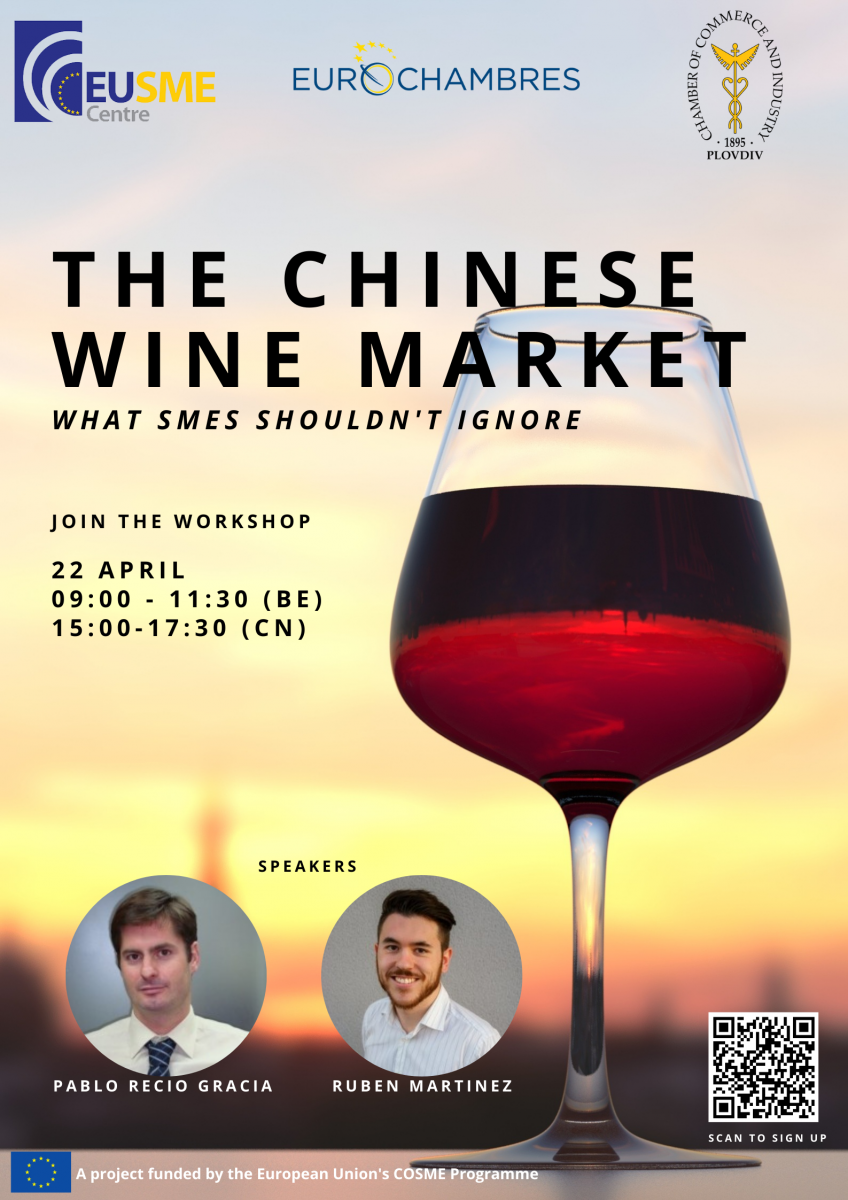 The EU SME Centre, EUROCHAMBRES and the Plovdiv Chamber of Commerce and Industry are happy to invite you to an online workshop on the Chinese wine market.
With around 40% of China's wine being imported, foreign wineries and wine distributors have been presented with an enormous opportunity for global expansion. The rapid growth of the Chinese market attracts wine exporters from all over the world and, the European Union is the most competitive player for its leading position in wine production. However, it is important not to underestimate Chinese consumers' perception of wine and attention to prices. Although the market appears to be maturing in the Middle Kingdom, there is still a good share of consumers who still prefer beer for its cheaper price and its availability. In fact, when it comes to discovering this foreign product, wines with a high quality/price ratio have better opportunities of being noticed. This workshop allows SMEs operating in the wine industry to set up a comprehensive road map to start exporting wine to China.
You can find the recorded webinar on Youtube:
Agenda:
09:00 – 09:10: Opening remarks
09:10 – 09:20 Overview of the wine market in China
09:20 – 09:40: Consumer behaviour Main events impacting the wine market in China
09:40– 10:05 Key regulatory aspects. Trademark, product legal standards and label.
10:05 – 10:25 Distribution. Retail, food service. Traditional and cross border Ecommerce
10:25 – 10:40 Marketing for imported wine in China
10:40 - 10:50 Q&A
About the speaker:
Pablo Recio Gracia
Eibens Managing Director
Pablo has lived and worked in China since 2005. During this time he has developed a strong knowledge of the Chinese market, in particular relating to food and beverage import and distribution processes and trade barriers, from both a legal and commercial standpoint; and attracting Chinese investment into specific projects or regions. Currently, he is the managing director of Eibens, company stablished in China in 2005. It has two offices in Madrid and Beijing. It is focused on the Food and Beverage sector, working with EU SMEs, International trade promotions agencies and public companies. Services include all steps from training, to market intelligence, market entry or commercial follow up. As secondary sectors Eibens also work in cosmetics sector and ecommerce. From 2012 to 2014 he was the Director of Gold Millennium Beijing. In his previous roles, he worked for public agencies including ICEX (Spanish Institute for Foreign Trade) and Extenda (Trade Promotion Agency of Andalusia), as well as for private companies involved in international trade between Europe and China. Pablo has consulted and advised many European companies engaging in the Chinese market. He holds a Bachelor in Business from the University of Granada and two Masters Degree in Quality Management and Business Internationalisation. Pablo Recio is a frequent speaker in business seminars in Europe and China. In the last few years, he has frequently cooperated with the EU SME Centre and organizations such as the European Union Chamber of Commerce in China, LIAA, FINPRO or Bord Bia among others.
Ruben Martinez Gomez
Eibens Project Manager
Rubén has lived in China for over 4 years, and his career has always been focused on the Chinese market.
He holds a bachelor's degree in Business Administration from the Polytechnic University of Valencia and specialized on international management and business internationalization through different experiences abroad. He also did a 1-year program on Chinese language and business studies at University of international Business and Economics (UIBE) sponsored by the Foundation of the Spanish Official Credit Institute (Fundación ICO).
He has experience working both for public agencies and private companies. He worked at the Commercial Office of the Spanish Embassy in Beijing for the Valencian Agency of Business Internationalization (IVACE) and was part of the export department of a Spanish leading company in the beer and soft drinks industry, being responsible of China and other Asian markets.
In Eibens, he manages the company daily operations related to the development of consulting projects, coordinating team members and activities, conducting field and desk research and elaborating market intelligence reports.