Date & Time (Beijing) :

Apr 6, 2021, 4:30 pm - 6:30 pm
Date & Time (Brussels) :

Apr 6, 2021, 10:30 am - 12:30 pm
Venue :

Online and Offline (Beijing)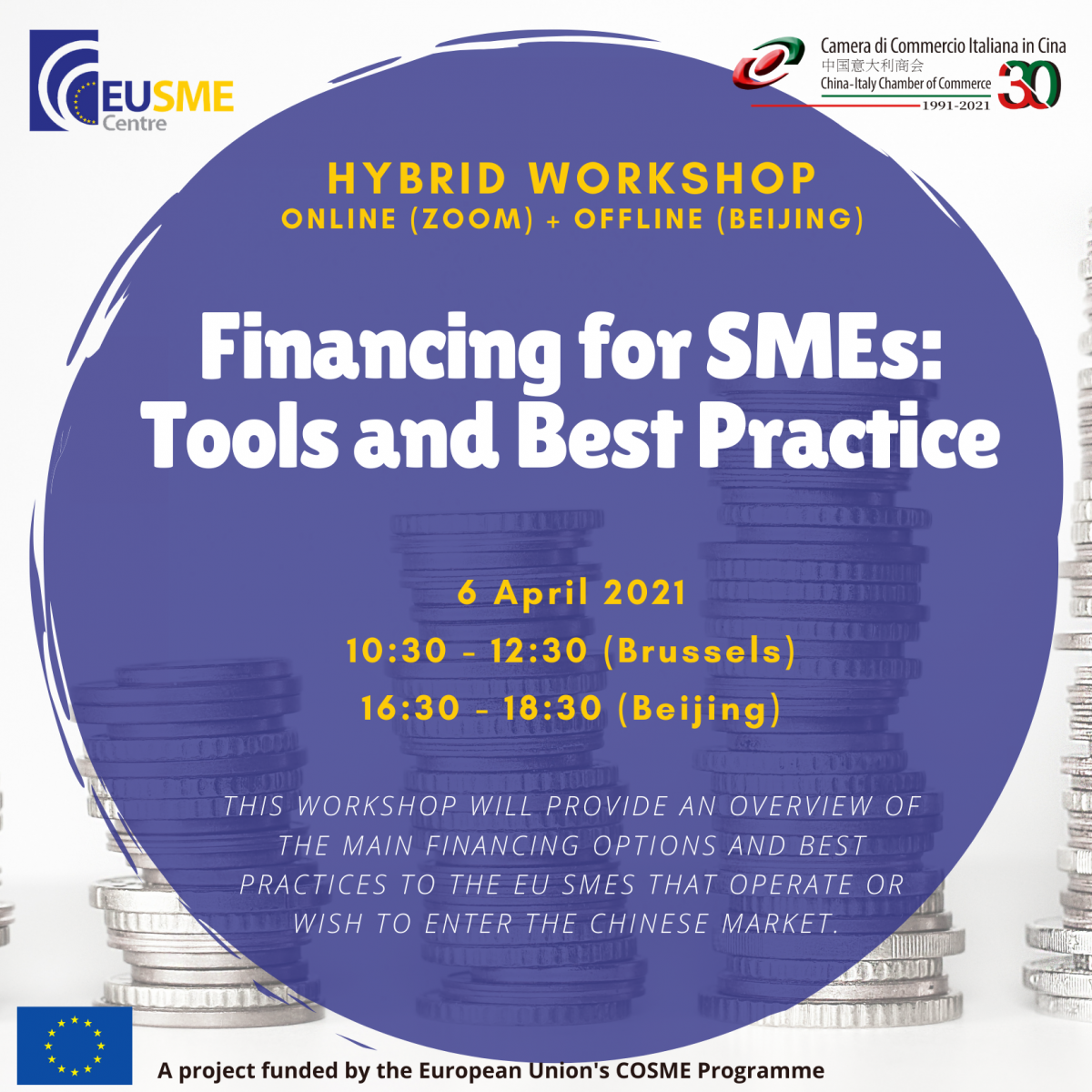 The EU SME Centre and the China-Italy Chamber of Commerce is pleased to invite you to another hybrid workshop - this time on the topic of "Financing for SMEs: tools and best practice".
The workshop will be held on April 6th, 2021 from 16:30 to 18:30 (Beijing Time) both online and offline at the EU SME Centre Beijng Office.
The workshop will provide an overview of the main financing options and best practices to the EU SMEs that operate or wish to enter the Chinese market. It will provide hands-on knowledge and practical tips including but not limited to how to access Chinese Government support, seek financing for projects, obtain financing from financial institutions in China, and solutions for facilitating funds transfer.

Agenda:
16:30 – 16:40 Opening Remarks - CICC & EU SME Centre
16:40 – 17:00 "Getting Ready for Investments in China" - Dickson Leung, Founder and Senior Partner at LehmanBrown International Accountants
17:00 – 17:20 "Banking assistance to European SMEs investing in China" - Sergio Miele, Senior Business Development Consultant at ICBC Milan Branch
17:20 – 17:40 "Successfully obtaining funding for developing the Chinese market: case studies and best practices" - Tanya Wen, Founder & Managing Partner at Seta Capitals
17:40 – 18:30 Q&A and conclusions
You can find the recorded webinar on Youtube:
About the speakers: