Date & Time (Beijing) :

Dec 8, 2021, 4:00 pm - 5:30 pm
Date & Time (Brussels) :

Dec 8, 2021, 9:00 am - 10:30 am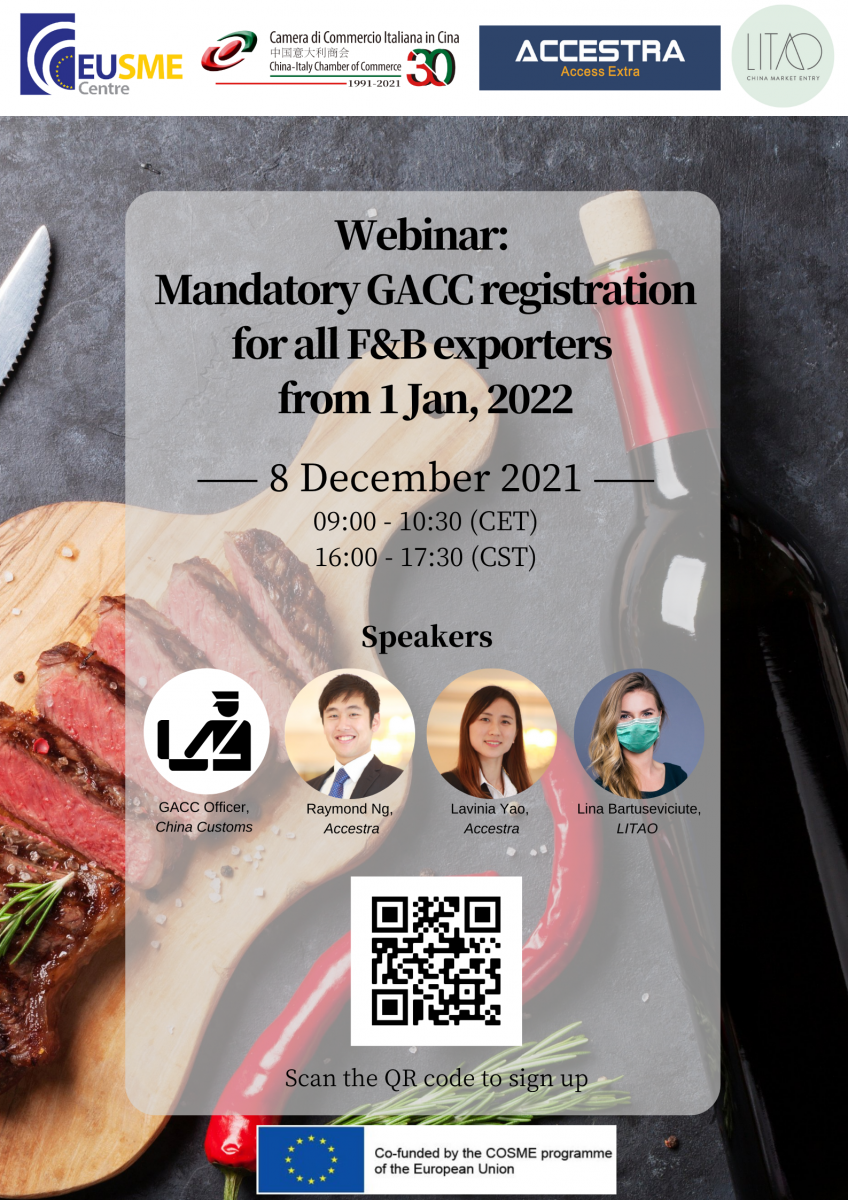 In April 2021, China's General Administration of Customs (GAC) issued Order 248 and Order 249. These two major regulations require all overseas F&B manufacturers exporting to China to register, before 1 January 2022, on a platform designated by GAC, and to display the registration number of the label and package. Failure to do so will prevent European F&B companies to export their products to China.
As we are approaching the deadline for registration, lot of uncertainty remains. Companies still have many doubts on the registration procedure for their F&B products, are encountering technical issues when register on GAC's platform, or are not entirely clear on the changes to be adopted to their labels and on what constitute 'inner package' and 'outer package'. The EU SME Centre is receiving several emails every week from European SMEs seeking assistance.
In order to make some clarity and to prevent any interruption of exports from EU SMEs to China, we are partnering up with two key experts from consulting firms Accestra and Litao Consulting, for a webinar on the topic. Together, we have invited a Customs Officer from GACC to give a presentation and answer questions from SMEs.
Key content to be covered include:
What, why, where and who needs to register on GAC's platform
Procedures for registration: recommendation from national authorities and self-registration
Step-by-step guidance for self-registration on GAC's platform
Labelling requirements
Impact of the new regulations on market dynamics EU exporters
Insights on successful factors for F&B products, B2B distributors and Chinese consumers preference
Tips and pitfalls
A Q&A session will follow, during which real cases of inquiries received by the EU SME Centre from EU SMEs.
Participation is free of charge for EU SMEs, business organisations and government institutions.
Agenda
16:00 – 16:05: Welcome remarks by EU SME Centre
16:05 – 16:17: What EU F&B Brands are successful in China long term and why?
- First-hand information and practical tips from 12 years' hands-on experience
- Opportunities new GACC registration brings to EU F&B brands
By Lina Bartuseviciute
16:17 – 16:30: 4 W's & Labelling
- What, why, where and who needs to register on GACC's platform
- Labelling requirements & cases
By Raymond Ng
16:30 – 17:00: Registration Procedure & Guidance
- Procedures for registration: recommendation from national authorities and self-registration
- Step-by-step guidance for self-registration on GACC's platform
- Tips & Pitfalls
By Customs Officer @ GACC
17:00 – 17:30: Q&A and conclusions
About the speakers