Home
>
Calendar
> ICT Development in China for Service Providers & Destinations for China's Outbound Tourism
Date & Time (Beijing) :

Oct 27, 2021, 4:00 pm - 6:30 pm
Date & Time (Brussels) :

Oct 27, 2021, 10:00 am - 12:30 pm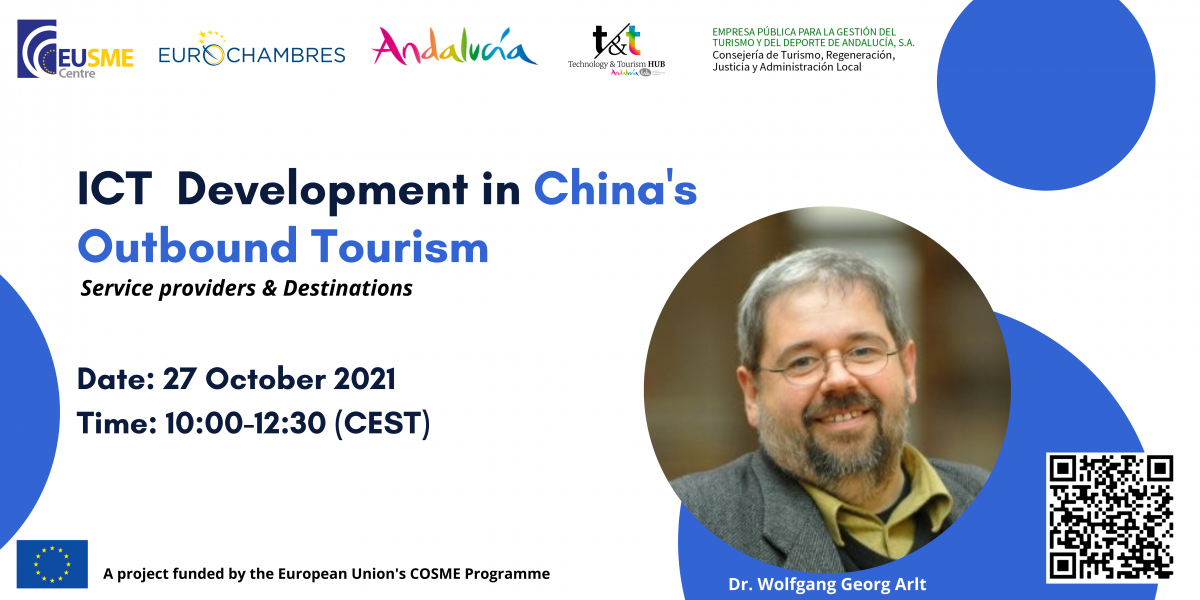 The EU SME Centre, EUROCHAMBRES and our official partner, the Empresa Pública para la Gestión del Turismo y del Deporte de Andalucía are happy to invite you to participate in an online workshop on China's Outbound Tourism and ICT market. It will take place on 27 October 2021 from 10:00-12:30 (Central European Summer Time) | 16:00-18:30 (China Standard Time).
The Information Communications Technologies (ICT) plays a major role in the tourism, travel and hospitality industries around the world as IT applications help business with day-to-day operations, increase efficiency, reduce costs, and improve customer experience.
The Chinese tourism industry has followed a similar pattern in the development of ICT applications as Europe, where implementation was first started by airline companies followed by hotels and tour operators and then gradually extended to the rest of subsectors.
China is now heading to its tourism industry 3.0. In this context, a wide range of cutting-edge technologies – augmented reality, virtual reality, artificial intelligence, internet-plus technology etc., have been innovatively applied in almost every part of China's tourism industry enabling tourists enjoy entertaining and interactive visual experiences, travel more efficiently.
This online workshop aims at introducing the tourism development framework and the potential of e-Tourism applications in China.
Please note that participants are required to register before completing the sign up process. Once the registration page is opened click on "inicia sesión o regístrate", select "Regístrate aquí" and insert the details requested by the system. If you select employed worker as employment status, you will have to add the company's ID. The platform is designed to accept company IDs from any country. If you encounter any problem, please contact the organiser: laura.velasco@eusmecentre.org.cn.
Agenda:
10:00 – 10:10
Opening speech by Empresa Pública para la Gestión del Turismo y del Deporte de Andalucía.
Presentation of the EU SME Centre and the speaker

10:10 – 10:40
Module I : Situation
- Outbound and domestic tourism development before and during pandemic in China
- Situation June 2021 - Domestic tourism back to 2019 levels, 40% vaccinated, restart outbound tourism expected in Autumn 2021
- Situation of travel-related ICT in China June 2021: major players, new channels, new market segments
- Development of ICT usages with regard to tourism

10:40 – 11:10
Module II: Consequences
- New approaches for sustainable development of using ICT for communication with the Chinese outbound market
- Using different platforms and communication channels for different market segments
- Silver Travellers taking over Douyin from Millennials
- Importance of Lifestreaming
- Daka and outbound travel
- Rise of Recommendation Marketing - From KOLs to KOCs
11:10 – 11:40
Module III: Best Practices
Examples from 2021 – brands and destinations reacting new trends

11:40 – 12:10
Module IV: Outlook
- The diminishing importance of Owned and Bought media and the rise of Earned media in China.
- ICT during the trip - Overcoming language barrier, Mini Programs and Apps.

12:10 – 12:30
Closing remarks and Q&A

About the speaker