Date & Time (Beijing) :

Jul 13, 4:00 pm - 5:30 pm, 2021
Date & Time (Brussels) :

Jul 13, 10:00 am - 11:30 am, 2021
Address :

The Executive Centre, Level 45 Office Tower 1, Chengdu IFS, Jingjiang District, Chengdu 610021 成都市锦江区IFS 1号写字楼45楼,德事商务中心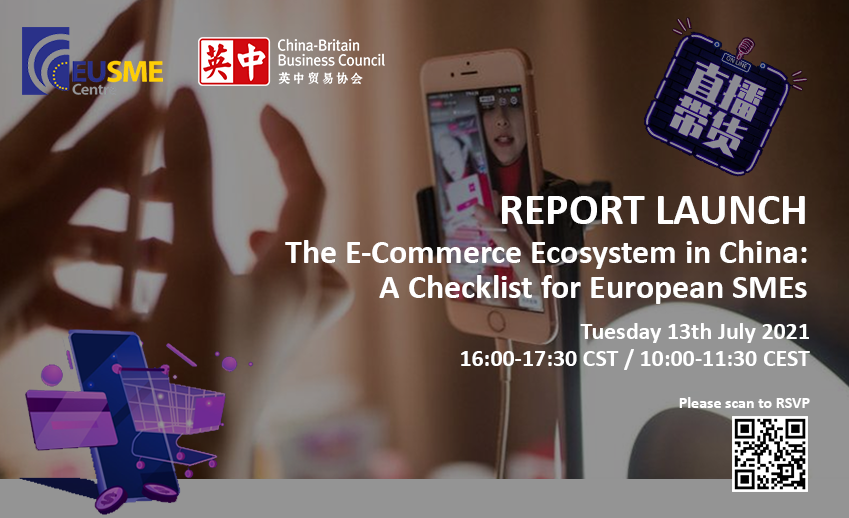 EU SME Centre and China-Britain Business Council are pleased to invite you to the launch of the report 'The E-Commerce Ecosystem in China: A Checklist for European SMEs' issued by the two organisations, on 13 July 2021. The report launch will be held both offline in Chengdu and online via Zoom.
China recorded total consumer goods retail sales of RMB 39.2 trillion (€4.98 trillion) in 2020.In the first quarter of 2021, retail sales of consumer goods increased by 33.9% over the previous year's first quarter, in line with the Chinese economy's speedy recovering from the pandemic. The online sales data for physical products in 2020 was RMB 9.76 trillion (€1.24 trillion), with 14.8% growth over the year.
China with no doubt has a huge and dynamic retail market, and the cross-border e-commerce(CBEC) becomes the main drive contributed to the retail economy. The E-Commerce Ecosystem in China: A Checklist for European SMEs provides a comprehensive and up-to-date overview of China's e-commerce ecosystem. It contains introductions of the key actors involved both in traditional e-commerce and in CBEC, the latest consumer trends and emerging product categories, and the analyses the most recent developments in terms of e-commerce policies, regulations and market entry provisions. The core section includes a practical checklist for European brands looking to take advantage of the e-commerce opportunity in China. Specifically, it provides an overview of the key steps, costs, market entry channels, pricing and marketing strategies, logistics requirements, and best practices to follow and avoid. It also provides a comparison among various Chinese e-commerce platforms, including less known ones such as Pinduoduo, Little Red Book and Kaola, a list of key consumer festivals and holidays to follow in China, and a case study on a livestreaming campaign organised by a business support organisation with Chinese Key Opinion Leaders.
In addition, to further illustrate the past 618 shopping festival's performance, we invited representative from Kung Fu Data to share the highlights and key takeaways for international brands. Aiming to help EU based companies and brands to understand the sales trends, popular product categories and what should brands do to stand-out and win the customers.
You can find the recorded webinar on Youtube:
Agenda:
15:45-16:00

Guest Registration

16:00-16:05

Online Broadcast starts

Welcome speech

Demi Ping, Director, Retail and Consumer Strategy, CBBC

16:05-16:40

Presentation on the report

Yuchi Zheng, Sector Specialist, CBBC/Writer of the report

16:40-17:15

​"618": The New Battleground for Brands in China​

Josh Gardner, CEO, Kung Fu Data

17:15-17:30

Q&A

17:30

Online broadcast concludes

17:30-18:00

Networking
About the speakers: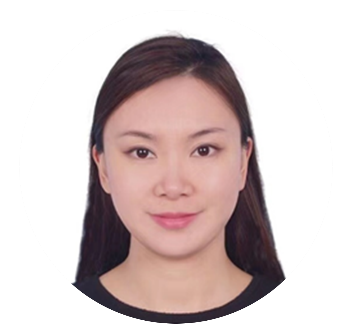 Yuki Zheng, Sector Specialist, CBBC
Yuki joined CBBC in 2016 and she works with UK companies in the Retail and E-commerce sector that wish to develop their presence in China. She is responsible for delivering high-quality research in terms of market analysis and trade policies and establishing connections between UK and Chinese businesses. Yuki is also experienced in arranging trade related activities in Guangdong Province, such as matchmaking events, UK delegations' tours in South China, and high-level visits. These include Retail Forum, Great British Brands Festival ("GBBF"), VIP visits made by CBBC's Chairman to the governor of Guangdong and municipal party secretary of Guangzhou.
Prior to joining CBBC, Yuki worked at Midea Group where she developed experience in delivering product improvement solutions based on market research findings. She also spent three years working for TNS in Guangzhou and Hong Kong, leading and managing multi-national and domestic market research projects for key clients.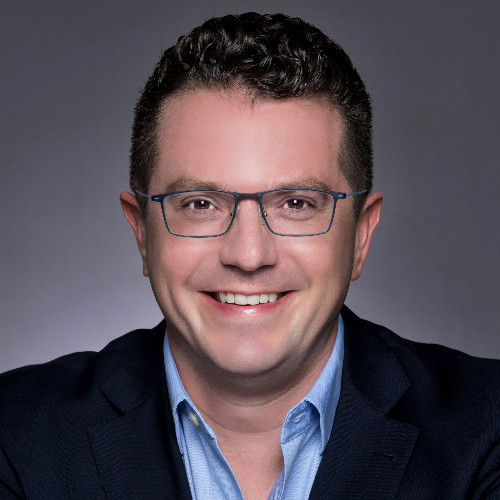 Josh Gardner, CEO, Kung Fu Data
Josh is the CEO and Co-Founder of Kung Fu Data, an ecommerce partner whose sole mission is to help brands thrive in China's online marketplaces.
He leads from deep in the trenches and operates a portfolio of successful flagship stores on Tmall and JD.
A fluent Mandarin speaker and senior China strategist, Josh has helped hundreds of brand owners with China ecommerce launches and is a recognized expert in market entry, brand control and performance management.
From strategy and structure to activation and optimization, he teaches the fine points of what it takes to win in China's fast moving ecommerce space.
Active member of Entrepreneurs Organization and sought-after speaker, Josh currently resides in Hong Kong with his wife of 20 years and their two beautiful children.