Date & Time (Beijing) :

Apr 8, 2021, 4:00 pm - 6:00 pm
Date & Time (Brussels) :

Apr 8, 2021, 10:00 am - 12:00 pm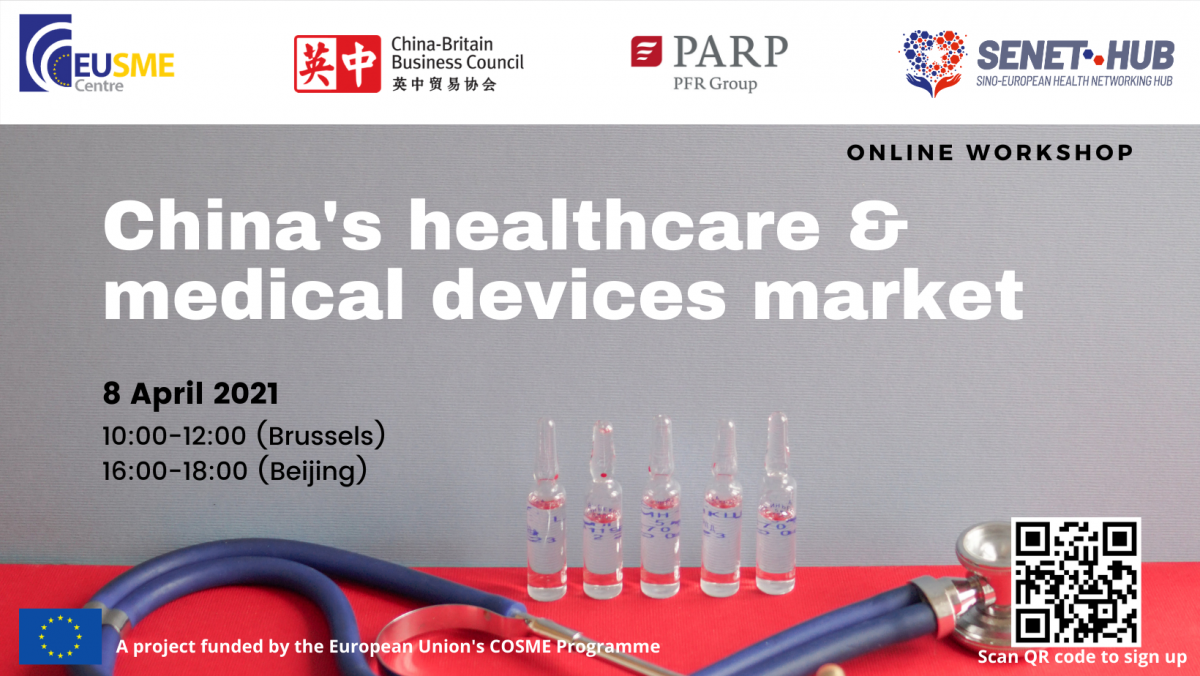 The EU SME Centre and China Britain Business Council are happy to invite you to an online workshop organised in collaboration with the Polish Agency for Enterprise Development (PARP) and the SENET (Sino-European Health Network Hub) project on the healthcare market in China. The workshop will take place on 8 April from 10:00-12:00 (Brussels time) | 16:00-18:00 (Beijing time)
Under the environment of global change and economic slowdown, profound restructuring and uncertainty in 2019, the Chinese healthcare foreign trade witnessed strong growth. Statistics of China Customs revealed a total import and export trade volume of 145.691 billion USD, up by 26.85%, the highest since 2011. Europe, Asia and North America were China's top three trading partners in terms of healthcare foreign trade. The US continued to be China's top 1 trading partner, followed by Germany, Japan, India and Ireland.
The pandemic of Covid-19 beginning of 2020, greatly accelerated the demands of healthcare service globally. Meanwhile, after a decade of reforms, China health reform has entered into a new era. The Chinese government has further opened up its healthcare sector, at the same time enhancing the level of administration in the medical device sectors for foreign products. More policies in the medical device sectors have been introduced – providing opportunities, but also challenges for European SMEs that are preparing to enter or already doing business the Chinese market. For instance, the market of Contract Research Organisations (CRO) in China has been growing rapidly since 2017 along with the Research and Development (R&D) encouragement policy published by stakeholders in China.
This workshop is organised in cooperation with PARP, as a run-up/supporting event to the Med2Meet B2B event that will take place on 21 April 2021.
You can find the recorded webinar on Youtube:
About the speakers
Wendy Wang
Director of Healthcare and Life Sciences at the China-Britain Business Council in Beijing.

She leads on sector-related activities across China, working closely with UK Healthcare and Life Sciences government departments and trade associations to deliver research reports, marketing events, trade missions as well as sector themed Expo. She is also the EU SME Centre's key expert for healthcare, pharma and medical devices. She is currently updating a previous report from the EU SME Centre in September 2017 on China's healthcare sector (expected completion by May/June 2021).
Before joining CBBC, Wendy worked as senior advisor of healthcare and life Sciences, Trade Council of the Royal Danish Embassy to China. She has over 16 years' experience in the healthcare sector. Wendy has a Master's in Business Administration from the Renmin University of China.
Stefan Jungbluth
Head of Business Development at the European Vaccine Initiative (EVI)
Stefan has been working since 2012. Prior to joining EVI, Stefan was Managing Director and co-founder of a biotechnology company in Spain which focused on the discovery and development of drugs against rare cancers. Previously, he occupied different management positions related to business development in Spain´s three most renowned biomedical research centres, the Centro Nacional de Investigaciones Oncológicas, Centro de Regulación Genómica, and Centro Nacional de Investigaciones Cardiovasculares. His professional experience also includes a secondment at the Directorate General for Research, Directorate F - Health, at the European Commission in Brussels. Before that he worked for more than ten years as researcher at King´s College London, at the Centre National de la Recherche Scientifique (CNRS), Paris, and at the Max-Planck Institute for Psychiatry in Munich.
Johnny Pan
International Consultant at SPI China Rep. office
Jhonny has 6 years of experience with European SME in developing business opportunities in China and performing tasks related to international market research and business development. Since joined SPI in 2012, Johnny has accumulated extensive experience in supporting European SMEs in developing market report and business analysis in many fields, covering food & agriculture, ICT, pharmaceutical, healthcare, agri-food and transportation, etc. Johnny has developed several market reports and case studies for EU SME Centre, helping SMEs to find cooperation opportunities with Chinese organizations. Moreover, Johnny has developed a series of training materials in different sectors in the Chinese market for the training seminars to European SMEs in collaboration with the EU SME Centre.
Dr Jim Roldan
Dr. Jim Roldan earned a Msc degree in Medicine and Surgery and studied Business Administration while working in different Operations and Information Service positions at "Caixa de Barcelona" (now "Caixa Bank"), the largest bank in Spain.
In 1985 founded CTA, the first Optical Character Recognition company being able to covert images into text in an Apple Macintosh computer. CTA's "TextPert" was distributed in 30 different countries and seven languages, becoming the largest exporter of computer software in Spain. It was also the first company delivering and Arabic OCR. In 1987 CTA spun off one of the oldest Apple dealers in Spain: CTA Serveis. During almost three decades, CTA Serveis became the leading reference in electronic design and publishing in Barcelona, supporting a full generation of talented graphic designers that have given to the city its distinctive reputation on electronic graphic design talent and innovation.
As the packaged software disappeared in 1994, Jim Roldan founded Smart Vision Systems, now Indra Servicios Digitales, the leading worldwide Business Process Outsourcing supplier of Electronic Document and Record Management Services (EDRMS) and Business Process Management (BPM).
In 2007 Jim Roldan was appointed senior VP of Strategy and Efficiency of Indra, the largest european IT integrator in Europe by capitalization.
Since 2010, Jim Roldan has participated as an advisor and small business angel investor in several disruptive business ventures thorough Tanaka Consulting. Dr. Roldan has also acted as executive director of Linkcare Health Services, a spin off from Barcelona's Hospital Clinic after eight years of international research on Integrated Health Care.