Date :

Jan 21, 10:00 am - 1:00 pm, 2021
Title: Intercultural communication between China and Europe
Type: Online training
Date: 21 January 2021
Time: 09:00 - 12:00 (Lisbon time) (10:00 - 13:00 (Brussels time) | 17:00 - 20:00 (Beijing time))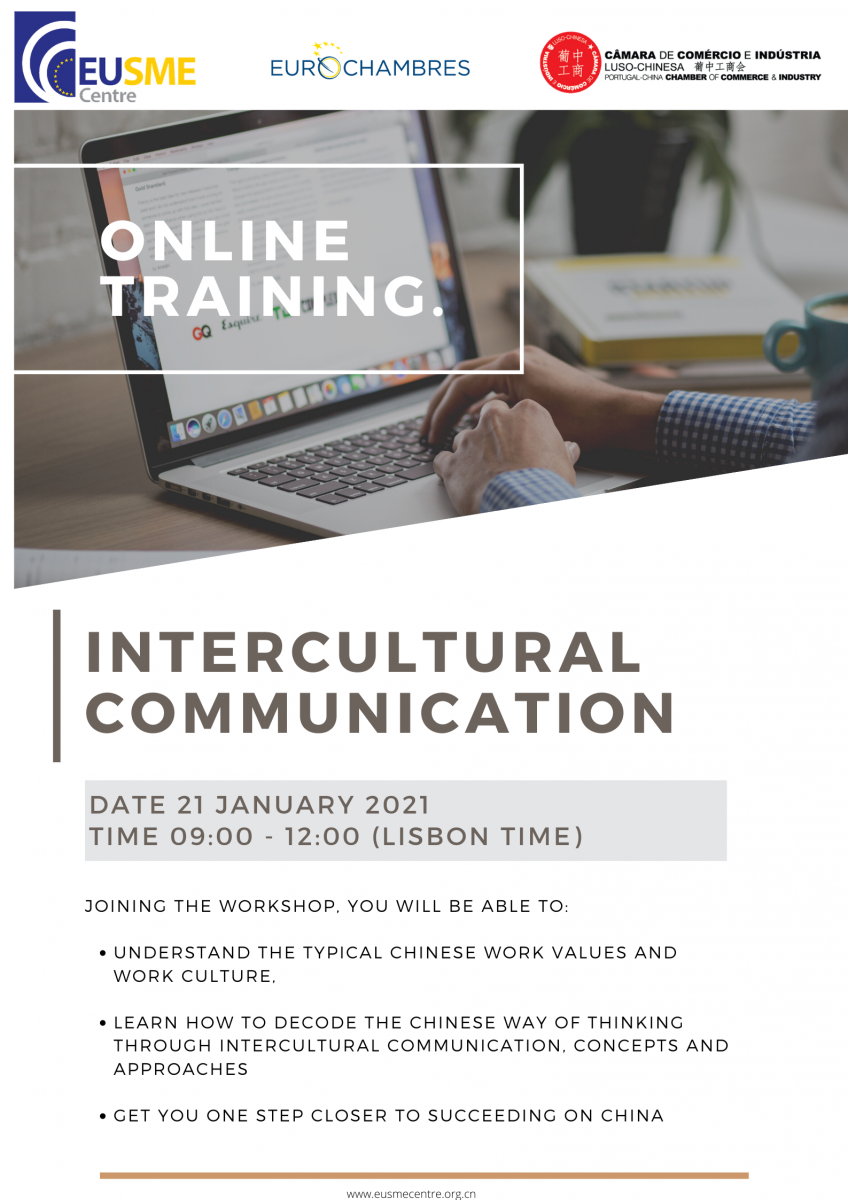 The EU SME Centre is excited to announce that a new training workshop on intercultural communication between China and Europe will take place online on 21 January 2021 from 10:00 - 13:00 (Brussels time) | 17:00 - 20:00 (Beijing time) - free of charge. The online training workshop is organised together with EUROCHAMBRES, in collaboration with the Portugal-China Chamber of Commerce & Industry.
In recent years, it has been more necessary than ever to be a part of the growing global community, especially when doing global business. The importance of knowing how to communicate across cultures has become more essential than ever, especially when doing business with one of the most promising market in the world – China. The trade relations between China and Europe have progressively intensified in recent years, and the Chinese market has in recent years been a very attractive market for Wester companies. However, the vast difference in the Chinese culture and business practices creates great challenges when establishing, developing, and maintaining economic relations with China.
This training will provide you with knowledge of the cultural differences in China from communication and business perspective, understand the Chinese mindset, including the concepts of 'face' and 'guanxi' and to understand the 'why' of the Chinese mentality in the professional environment. This workshop will give you some tools and skills to overcome the cultural barrier between East and West and minimize potential misunderstandings in the communication with business partners through practical examples and case studies.
Agenda
09:00 - 09:05 Welcome speech by CCILC
09:05 - 09:15 Presentation of the EU SME Centre by Laura Velasco, Project Officer, EUROCHAMBRES
- Intervention of the expert, Antonio Liu Yang
09:15 - 09:50 Module 1:
- Communication with China
- Beyond language
- High context vs low context
09:50 - 10:30 Module II: Analysis of the Chinese cultural dimensions
- Collectivism
- Particularism
- Power distance
10:30 - 11:10 Module III:
- Millennial values applied to the modern world; beyond Confucius

11:10 - 11:50 Module IV: The Chinese mindset
- Keep your 'mianzi' (face)
- Build your 'guanxi' (relations)
11:50 - 12:00 Closing remarks and Q&A
Interested in joining? Register here