Home
>
Knowledge Centre
> Partnership MoU Signed with Beijing Technology Exchange and Promotion Center
The EU SME Centre signed a Memorandum of Understanding (MoU) with the Beijing Technology Exchange and Promotion Center (BTEC) on April 22nd in Beijing, aiming to establish a collaborative business development framework based on existing business streams within two organisations.
The Centre and BTEC commit to implementing joint activities including training and b2b matchmaking events and mutual support that will increase synergy and contribute to the common goal of supporting EU SMEs to do business in China.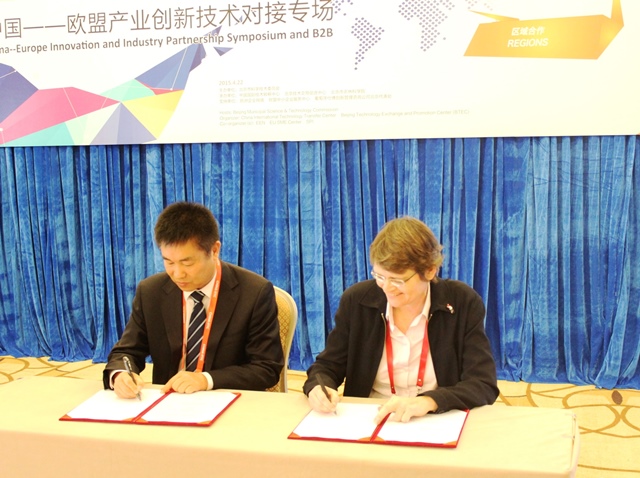 (Photo: Centre Expert Martina Gerst signed the MoU with BTEC/CITTC Director Huang Ping.)
About the Beijing Technology Exchange and Promotion Center
The Beijing Technology Exchange and Promotion Center, an agency of the Beijing Science and Technology Commission, is positioned as a leading platform of knowledge exchange and innovation collaboration, locally as well as throughout China. Focusing on the central government's seven strategic sectors, and Beijing Municipality's keen focus on innovation, technology partnering, and business development, BTEC has developed programs that support innovation and business partnerships amongst domestic and foreign players.
BTEC also currently operates the China International Technology Transfer Center (CITTC), which is supported by the China Ministry of Science and Technology, Beijing Municipal Science and Technology Commission, and Haidian District Government. Located in China's National Innovation Cluster in Zhongguancun, the CITTC is surrounded by universities, research institutions, VC, and PE, and is connected to more than 1000 research and development institutions and 7000 enterprises.
To learn more about the BTEC, please click here.