Find a service provider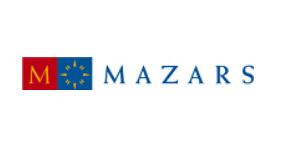 Mazars
Type of services:

Accounting & outsourcing, Audit & assurance, Corporate finance, Risk management & internal control, Tax advisory & compliance, Transaction support

Affiliation to a Chamber
of Commerce:

Benelux Chamber of Commerce in China (Bencham), China-Britain Business Council (CBBC), European Union Chamber of Commerce in China (EUCCC), French Chamber of Commerce in China (CCIFC), German Chamber of Commerce in China (AHK), Spanish Chamber of Commerce in China

Member state:

representing all 28 Member States of the EU

Languages spoken:

Chinese, English, French

City:

Beijing

Website:
Contact Info
Thierry Labarre

Founding Senior Partner

Management
T: +86 10 8429 8078
Fax: +86 10 8429 8081
Mob: +86 13701359739
E: thierry.labarre@mazars.cn

北京市朝阳区工人体育场北路甲2号盈科中心A座25层及26层 100027
Floor 25 & 26, Tower A, Pacific Century Place, 2A Gong Ti Bei Lu, Chao Yang District, Beijing 100027
Company background
Mazars is an international, integrated and independent organisation, specialising in audit, accountancy, advisory, tax and legal services. As of January 1st, 2017, Mazars and its correspondents operate throughout 94 countries. 79 of these countries are part of Mazars' international integrated partnership and 15 are Mazars correspondents. The Praxity Alliance offers Mazars operating capacity via professional teams in 21 additional countries.
Mazars draws upon the expertise of 18,000 women and men led by 950 partners working from 270 offices worldwide. We assist clients of all sizes, from SMEs to mid-caps and global players as well as start-ups and public organisations, at every stage of their development.
Mazars focuses on delivering value in meeting our clients'needs. Our vision is to seek to make a difference to our clients, our team and our community by providing high calibre accounting, tax and business advisory services in a manner that is personal, principled and professional.
Our mission is to focus on our clients' needs, delivering value through our personal touch backed by big experience. Our values include integrity, independence, honesty, transparency and accountability. They are at the heart of everything we do. We believe in taking personal responsibility, remaining client focused; working together with respect, and achieving the highest personal standards.
Our Hong Kong operations started in early 1990's. We opened an office in Beijing in 1997, followed by the Shanghai office in 2002. The Guangzhou office was opened on 2007.