Date & Time (Beijing) :

Aug 26, 2021, 3:00 pm - 5:15 pm
Date & Time (Brussels) :

Aug 26, 2021, 9:00 am - 11:15 am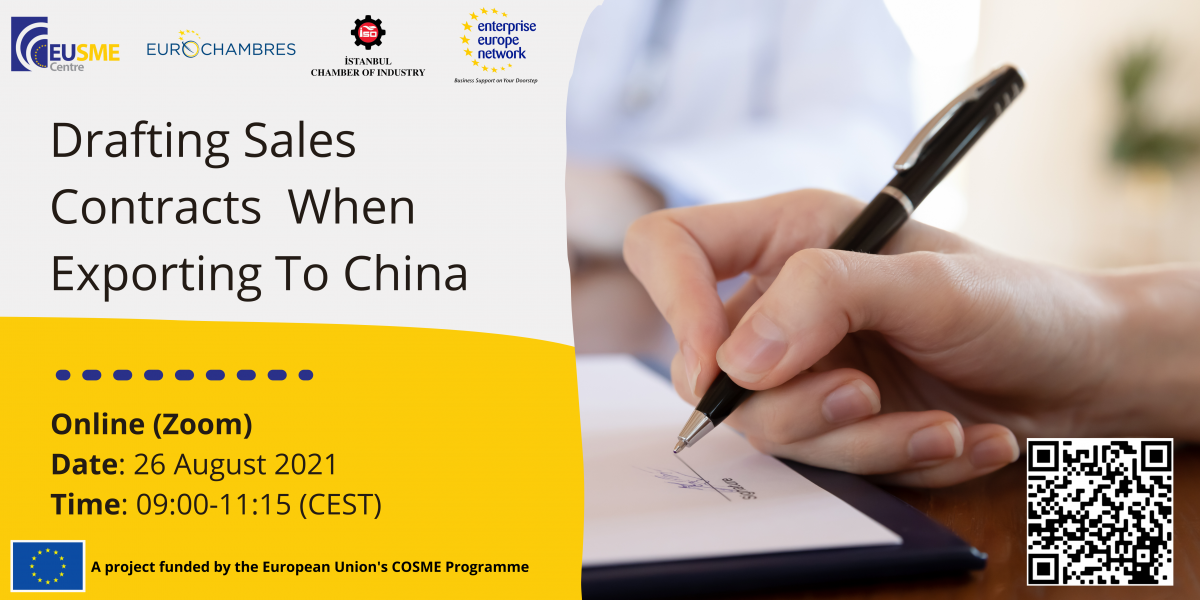 Any company conducting businesses in China needs to sign transaction contracts with different business partners - importers, agents, distributors and final customers – and a correctly executed agreement can be an important mechanism to ensure a successful transaction and help you effectively protect your business in China.
The EU SME Centre, EUROCHAMBRES, the Istanbul Chamber of Industry and EEN are inviting you to this online workshop where SMEs will learn how to prepare sales contracts when entering into a commercial relationship with a China-based partner. In this session, participating companies will receive basic and practical insights into the contractual aspects of Chinese business such as which clauses are essential to include, how to avoid common contractual errors, how to work out payment, and other key contract provisions.
You can find the recorded webinar on Youtube:
Agenda
The times listed below are in CEST. Participants joining from Turkey should consider that the starting time is 10:00 local time.
09:00 – 09:10:
Opening speech
Presentation of the EU SME Centre and the speaker

09:10 – 09:30:
Pre-contract stage: How to check the status of your potential business partner
─ How to verify the legal status of a company
─ What irregularities you should pay attention to

09:30 – 10:10:
Drafting a contract with a Chinese company
─ Make it valid
─ Payment negotiation and terms
─ Important provisions
─ Contract negotiation

10:10 – 10:30:
What to do when things go wrong
─ Fraud or commercial dispute?
─ Methods of dispute settlement and enforcement

10:30 – 11:00:
Best practices
─ Dos and don'ts
─ Case studies
11:00 – 11:15:
Closing remarks and Q&A
About the speaker