Find a service provider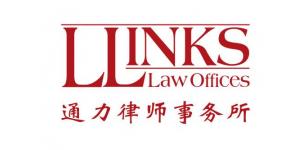 Llinks Law Offices
Type of services:

Legal Services

Affiliation to a Chamber
of Commerce:

Other

Member state:

other

Languages spoken:

Chinese, English, French, Other

City:

Beijing, Hongkong, Shanghai

Website:
Contact Info
Yuhua Yang

Partner

Capital Markets
T: +86 10 85192266
Fax: +86 10 85192929
E: yuhua.yang@llinkslaw.com

上海: 上海市银城中路68号 时代金融中心19楼; 北京: 北京市建国门北大街8号 华润大厦401单元; 香港: 香港中环花园道3号 中国工商银行大厦1503-04室.
Shanghai: 19F, ONE LUJIAZUI, 68 Yin Cheng Road Middle; Beijing: Unit 401, China Resources Building, No. 8 Jianguomenbei Avenue; Hong Kong: Suite 1503-04, ICBC Tower, 3 Garden Road, Central.

Company background
Llinks Law Offices is a leading PRC law firm with a nationwide and international practice. With offices in Shanghai, Beijing and Hong Kong, we aim to help our clients achieve their business goals and provide professional services of the highest calibre, combining technical excellence with commercial awareness and a practical, constructive approach to legal issues.
Since its founding in 1998, Llinks has consistently been at the forefront of developments in China's legal service market. Llinks has guided many international institutions and multinational corporations through the Chinese legal system, and helped them obtain protection under Chinese law. Llinks' technical skills, imagination and creativity have made it China's leading law firm in asset management, banking and finance, capital markets/corporate finance, corporate and commercial, dispute resolution, financial institutions, intellectual property, mergers and acquisitions, private equity/venture capital, real estate, restructuring, insolvency and bankruptcy, and taxation/customs.
We focus on our core practice areas, and that allows us to provide a greater level of technical skill. Llinks specialises in developing innovative strategies for multinational corporations, financial institutions, investment institutions and leading companies in relevant sectors to achieve their business goals in the Chinese legal environment.
Llinks is also distinguished by its attorneys' international experience. The majority of our partners and many of our associates have overseas educational backgrounds and training or practice experience abroad. Our partners and associates are all fluent in English, and some are fluent in French and Japanese. Such international background gives us a better understanding of foreign jurisdictions and the international business environment, enabling us to provide our clients with the international calibre service to which they are accustomed.
Our creativity, skill, international orientation and dedication to service set us apart.