Centre Expert Delivers Two Successful Training in Madrid and Tarragona
Tarragona, 9 March, 2016 – EU SME Centre Business Development Advisor Rafael Jimenez provided two training workshops in Madrid on March 8th and Tarragona on March 9th, advising on how to sell Spanish food and beverage (F&B) products through China's ever-growing online channels.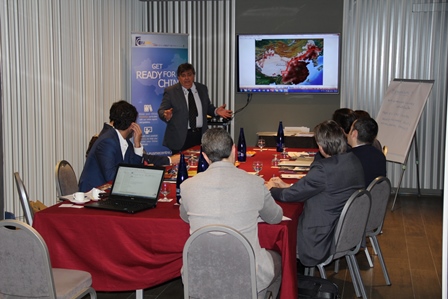 The workshops consisted of four modules, covering all-round aspects of E-Commerce in China for selling F&B products, ranging from the introduction of major players in the market, pricing schemes and payment options to logistics.
Participants also took part in interactive sessions to start developing an E-commerce strategy for their own products.
"It's been my pleasure to attend this seminar; [It is] highly interesting information....[and] very helpful for the companies with interest in Chinese market and online sales", said Ester Amorós, Marketing and Sales Manager from CAL SABOI EVOO who participated in the workshop in Tarragona.
The workshop in Tarragona was supported and hosted by the Chamber of Commerce of Tarragona.
"It's been a pleasure for us to organise the training seminar! Great knowledge of foreign markets is always welcomed in Tarragona ", said Daniel Martín Caballero, Direct General from the Chamber of Commerce of Tarragona.

---
To view the outline of this training programme, click here.