Home
>
News
> Post event | Best practices of European SMEs Exporting to China During and After Covid-19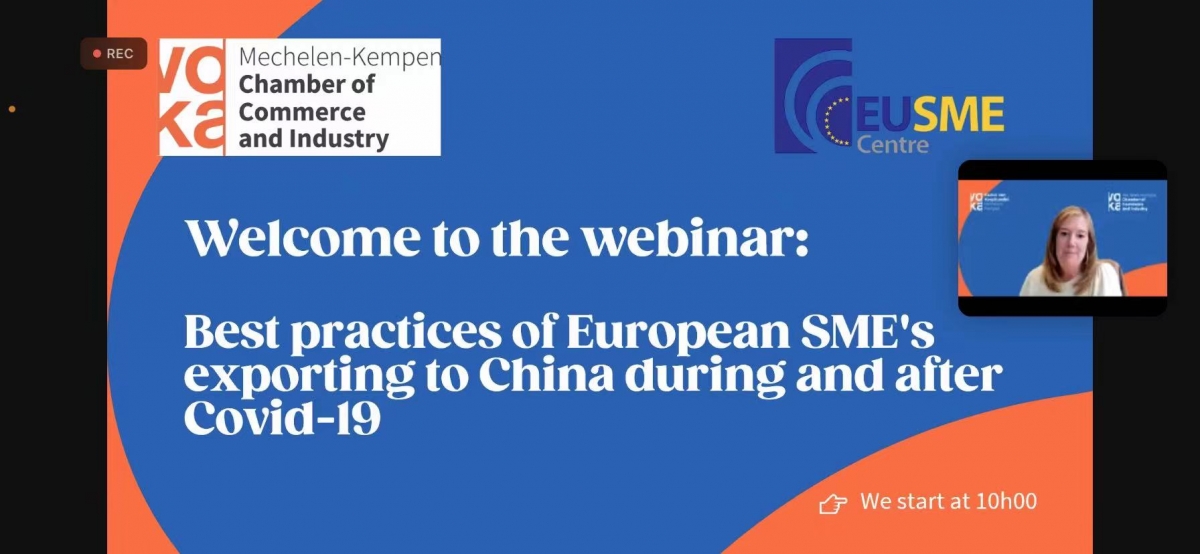 On 14 October, the EU SME Centre (the Centre), EUROCHAMBRES, and Voka – Chamber of Commerce & Industry Mechelen-Kempen organised a conference, aiming at showcasing the experience of European SMEs doing business with China during Covid-19.
The session was opened by Petra Van Bouwelen, International Business Manager at Voka Mechelen-Kempen, followed by the Centre's Partnership Coordinator, Laura Velasco, who introduced the EU SM Centre and invited all participates to join the upcoming Understanding China Training Programme, the Centre's annual flagship event.
During the conference, five European SMEs operating in different industries explained how their business models were impacted by the pandemic and how they adapted their China strategy to navigate the crisis. The five companies were represented by Martin Manson and Mike Hofmann from Tricker'sand Melchers China; Stefano Simonini from Sari Spazio; Sebastian Wornham Masi from Monkey Markets; Fernando Herrero from Boix Maquinaria; and Emmanouil Karpadakis from Terra Creta.
All the speakers stated that the pandemic changed the rules of the game and agreed on the need to be innovative and flexible to China's rapidly shifting environment.The importance of establishing the right partnerships and alliances in China was also highlighted by the guest SMEs, as this proved to be an extremely successful tool for reaching the Chinese consumers most effectively and efficiently.
If you missed this conference or would like to re-watch it, you can find the recorded version on our YouTube channel [ here].
If you are a business support organisation in the EU or the COSME-participating countriesand have affiliated SMEs interested in the Chinese market, please contact our Partnership Coordinator to obtain further information about our partnership programmeand how we can organise a similar training with your organisation.
About Voka - Mechelen-Kempen Chamber of Commerce and Industry
The regional chamber is aiming to be the closest and most influential professional network for its member entrepreneurs and potential entrepreneurs. Supported by the Voka Alliance, Voka Mechelen-Kempen wants to stimulate and support entrepreneurship as a neutral and representative player through an extensive range of activities, network events and customized services. Via the Federation of Belgian Chambers of Commerce, Voka - Chamber of Commerce Mechelen-Kempen is part of the Belgian, European and international network of more than 10,000 Chambers of Commerce worldwide and acts as an economic partner of the government
Download Attachment