Home
> Voka - Chamber of Commerce Mechelen
Our Partners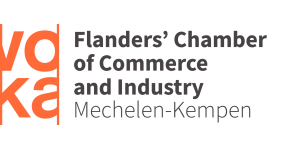 Voka - Chamber of Commerce Mechelen
Country:

Belgium

Relation to the Centre:

MoU partner

Address:

Onze-lieve Vrouwestraat 85 2800 Mechelen

Contact:

info.kvkmk@voka.be | Tel. 015 45 10 20

Partner background

With some 2800 companies, both SMEs, multinationals and liberal professions, active in virtually all economic sectors, Voka - Mechelen-Kempen Chamber of Commerce forms a unique network of entrepreneurs and is the most representative employers' organization in the Mechelen-Kempen region.

Voka - Chamber of Commerce Mechelen-Kempen wants to be the closest and influential professional network for its members-entrepreneurs and potential entrepreneurs. Supported by the Voka Alliance, as a neutral and representative player she wants to stimulate and support entrepreneurship through an extensive range of activities, networking events and tailored services .

In the context of the merger (as of 01/01/2018), we attach great importance to our employees. To underline this, the project " A new place to work " was started with the support of the European Social Fund (ESF) and the Flemish Government .

Because the Chamber wants to be close to entrepreneurs from the region and wants to keep its finger on the pulse of what is going on and sailing in the local economy, it has outlined 9 Local Business Networks (LONs ) . This regional interpretation is fully supported by local entrepreneurs and is supported in various ways by the House.

In addition to the LONs, an umbrella Board of Directors has also been set up with about 40 entrepreneurs from the Mechelen-Kempen region. Their task is to ensure a good operational effect and, from their entrepreneurship, to give voice to the vision and strategy of the Chamber. You will find the composition of this Board of Directors here .

Through the Federation of Belgian Chambers of Commerce Voka - Chamber of Commerce Mechelen-Kempen is part of the Belgian, European and international network of more than 10,000 Chambers of Commerce worldwide and acts as the economic partner of the government.