Our Partners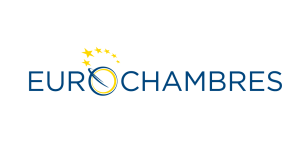 EUROCHAMBRES
Country:

Belgium

Relation to the Centre:

Implementing partner

Website:
Address:

Avenue des Arts, 19 A/D B-1000 Brussels

Contact:

Tel: +32 (0)2 282 08 50 – Fax: +32 (0)2 230 00 38 – Mail: eurochambres@eurochambres.eu

Partner background

EUROCHAMBRES is the Association of European Chambers of Commerce and Industry. EUROCHAMBRES represents over 20 million businesses in Europe through 45 members (43 national associations of chambers of commerce and industry and two transnational chamber organisations) and a European network of 1,700 regional and local chambers. More than 93% of these businesses are small and medium sized enterprises (SMEs). Chambers' member businesses employ over 120 million. EUROCHAMBRES develop and implement in the last years various project on skills and entrepreneurship, digitalisation, internationalisation and accessing new markets, IPR helpdesk for Latin America and China.