On 1 January 2022, a new regulation issued by GACC – commonly known as GACC Order 248 – came into force, requiring all companies producing, storing or transporting F&B products that are exported to China, to register on a dedicated system and obtain a code: https://cifer.singlewindow.cn/. Failure to do so will result in products being blocked at the Chinese customs and either returned to the country of origin or destroyed.
GACC Order 248 distinguishes between two categories of product categories, i.e. "high-risk categories" and "low-risk categories", each with its own registration procedure. Production establishments in the former category cannot register individually – they must be officially recommended by their own country authorities to GACC, a process that might take several months; those in the low-risk category can apply individually and directly to GACC, which usually only takes up to a few days. Meat products belong to the former category.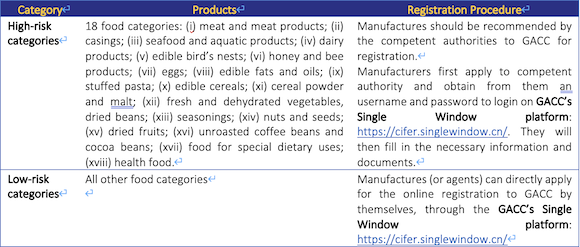 All approved establishments and their information are included in a specific, publicly available register.The register is managed in a dynamic manner by GACC: individual establishments will be added in, removed or resumed based on different assessment and review results.
The EU SME Centre has received nearly 200 enquiries from EU F&B producers and business organisations on different aspects and problems encountered during the registration process. We are ready to support you, please submit your question through our Ask-the-expert function. Ad hoc guidelines on this topic are also expected to be published by the EU SME Centre in June/July 2022, which include dozens of much more detailed and specific FAQs.