Date :

Sep 27 3:00 pm - 4:30 pm, 2022
EU Date :

Sep 27 9:00 am - 10:30 am, 2022
Venue :

Beijing Four Seasons Hotel, Tang I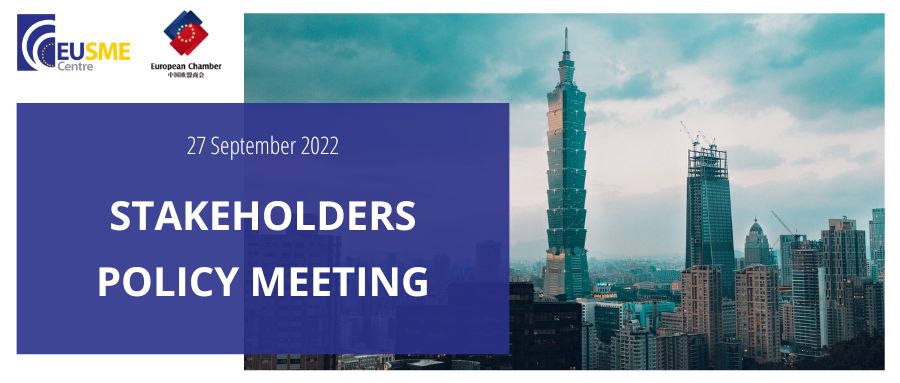 When Nancy Pelosi landed in Taiwan amidst feverish controversies on 2 August, governments and enterprises were all prompted to action. As of today, the visit continues to send ripples in the political, economic, and military dimensions. Questions loom as to where actors like the US, the EU, Japan and other regional players stand on this issue, what the implications of heightened tensions in the Asia Pacific region are and to what degree there is a risk of escalation.
The EU SME Centre and the European Chamber are pleased to invite you to join our upcoming Policy Meeting, where Mercator Institute for China Studies (MERICS) will share Beijing's vision, priorities and likely trajectory on Taiwan. Next, FGS Global will explain the geopolitical impact and risks following Pelosi's visit. The meeting will take place on Tuesday 27 September 15:00-16:30 offline only at the Four Seasons Hotel (Tang I) in Beijing. The meeting will be off-the-record and held under Chatham House rules.
Agenda
15:00 - 15:10

Opening Remarks

15:10 - 15:35

Presentation on Beijing's vision, priorities and likely trajectory on Taiwan

Helena Legarda, Lead Analyst, Mercator Institute for China Studies (MERICS)

15:35 - 16:00

Presentation on Geopolitical Impact and Risks by representative of FGS Global

16:00 - 16:30

Discussion and Q&A
Meeting Registration and Cancellation
This is a closed meeting open to consortium partners' management and relevant stakeholders of EU SME Centre Phase IV including European embassies, consulates, EU-funded projects and secretariat/board members from European chambers or business associations only. If you meet the criteria and would like to attend, please send your information to intern011@europeanchamber.com.cn by Monday 26 September. You will receive a confirmation email and later on the access link to the meeting.
Speakers