Date & Time (Beijing) :

Feb 22, 2022, 4:00 pm - 5:30 pm
Date & Time (Brussels) :

Feb 22, 2022, 9:00 am - 10:30 am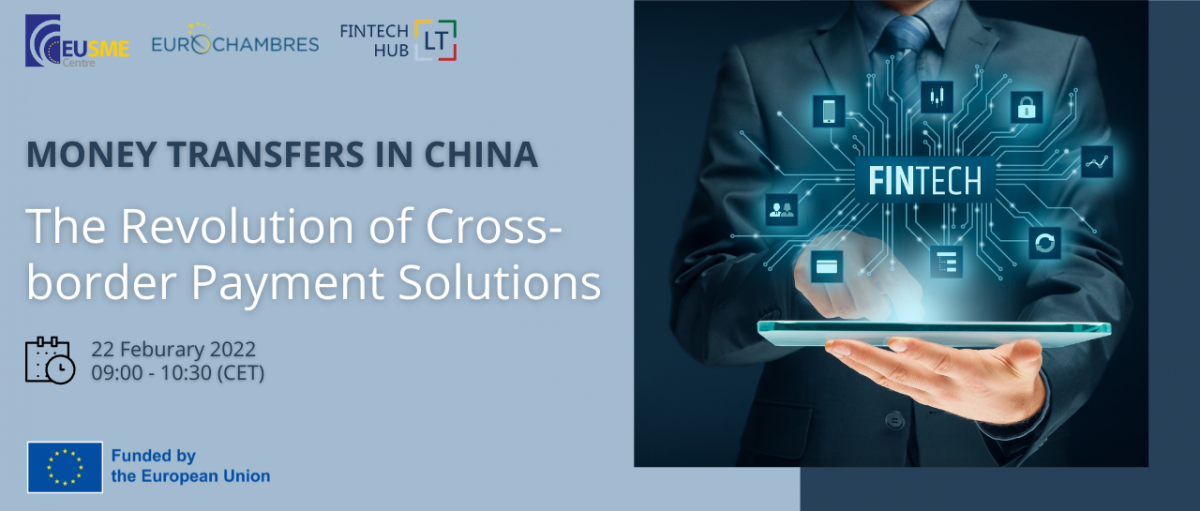 China is one of the largest payment markets in the world with an aggregate value of almost 800 billion euro in transactions in 2020. Additionally, the third-party enterprise payments segment is expected to reach 24.3 trillion euro in transaction volume in 2022.
Traditionally, banks were the only player in the market that facilitated cross-border payments and businesses and individuals looking to send or receive money from China had to face lengthy administrative paperwork. In the past few years, a wide variety of online payment platforms have arose offering a reliable, easy-to-use, and inexpensive alternative to traditional commercial banks.
The EU SME Centre and Fintech Hub LT with the support of Eurochambres invite you to join this virtual conference on 22 February 2022 at 9:00 Brussels time / 16:00 Beijing time where various companies will present their IT solutions to facilitate cross-border payments between Europe and China and how they help avoid the most common roadblocks in this kind of transactions.
The session will end with a discussion panel where the guest companies will share their thoughts on the future of cross-border payments.
You can find the recorded webinar on YouTube here:
_______________________________________________________
Presenting companies:
PanPay is a comprehensive financial technology company that provides multi-currency accounts, global payments, currency exchange and other services for coporates and individuals. PanPay is dedicated on connecting seperated global central bank clearing systems, restructuring cross-border financial infrastructure, and meeting the cross-border financial requirements for coporate and individuals.
Seven Seas Europe Ltd. is a part of Seven Seas Global Group, established in Hong Kong in 2017. Seven Seas Global Group Ltd. has offices in Vilnius in Lithuania, Shanghai, Guangzhou, and Hong Kong in China. As a global FinTech company, Seven Seas Finance provides an exclusive online banking platform for e-commerce and traders, individuals and businesses, from Europe and China. Seven Seas Finance is a trademark of Seven Seas Europe Ltd. which holds the Electronic Money Institution license (License no. 22) from the Central Bank of Lithuania (Lietuvos bankas) allowing it to provide financial services in all European Union countries. Seven Seas Finance services include Personal/Business Accounts, Local Payment Collection in EUR and GBP, SEPA EUR Payments, Cross-Border SWIFT Payments, Currency Exchange and Payment Cards. We are constantly expanding our products.
NihaoPay empowers technology developers, ISOs and FinTech players to deliver innovative solutions and seamless payment experience. As a leading cross-border payment company with cutting-edge technology and exceptional service, NihaoPay strives to bridge the gap between global merchants and customers. Our mission, is to engine thousands of partners and merchants of all sizes across different categories, to max their business unprecedentedly. Combining the best of Silicon Valley, Tokyo, and Shanghai, we are dedicated to help international companies do business with global consumers. With our strong ties to the industry, we strive to be your one point of contact to help you not only take a payment efficiently, but ensure that you are offering the right payment solution(s) for your business.