Date & Time (Beijing) :

Nov 17, 4:00 pm - 6:00 pm, 2021
Date & Time (Brussels) :

Nov 17, 10:00 am - 12:00 pm, 2021
Venue :

Online + CBBC Beijing Office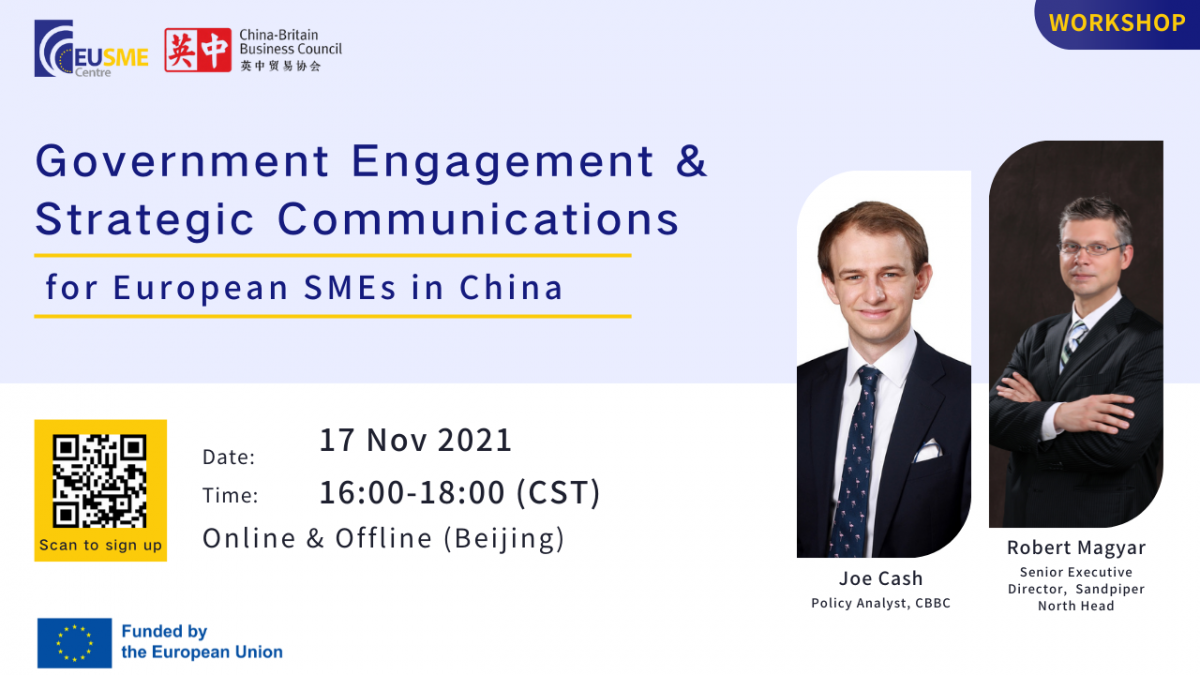 The EU SME Centre and the China Britain Business Council (CBBC) are happy to invite you to the hybrid workshop "Government Engagement & Strategic Communication for European SMEs in China", which will take place on 17 November from 16:00 - 18:00 (CST) | 09:00 - 11:00 (CET). The workshop will take place offline in Beijing as well as online on Zoom.
Government affairs (GA) in China has always been a critical point on the agenda for foreign companies. While large multinationals have dedicated GA teams and budget, many European SMEs still see this area as of secondary importance, maintaining mostly a passive attitude, e.g. dealing with inspections or getting approval or permits. In reality, the benefits of shifting to a proactive approach by engaging strategically government authorities in China are enormous and European SMEs should not be afraid of doing so even if their size and resources are limited.
Through best practices and case studies, this workshop aims to provide European SMEs with guidance and tips on how European SMEs can approach, engage and negotiate with the Chinese government, at both the regional and national level, through different approaches and channels, including chambers of commerce, public events, academics, but also Chinese media.
You can find the recorded webinar on YouTube here:
15:45-16:00
Arrival & registration (for offline participants only)
16:00-16:10
EU SME Centre introduction
- Alessio Petino, Knowledge Coordinator, EU SME Centre

16:10-16:30
Presentation 1 – Advocacy for beginners
- Joe Cash, Policy Analyst at CBBC
-
Introduction to China's Advocacy Environment (Preconceptions Vs. Realities)
-
The Role of Business Organisations in Supporting Foreign Firms in China:
-
How Business Organisations Interact with Government
o
Case Study: CBBC's Municipal Government Dialogues
o
How Business Organisations interact with their own Governments
o
What Lobbying Looks Like in China
-
Routes to Dialogue with the Chinese Government:
o
Ties with Academics in R&D
o
Smaller Chinese Governmental Institutions
o
Examples of companies that have managed this well
o
Importance of reading Chinese news/localised staff
- Joe Cash

16:45-17:15

Presentation 2 – Govt affairs environment, strategies and tactics to strengthen corporate reputation
- Robert Magyar, Senior Executive Director at Sandpiper North Head
- Introduction of Public Affairs (PA) and Government Relations (GR) in China
o Managing relationships with government agencies.
-
How to strengthen corporate reputation and relationships with the Chinese government
o Introduction of the general GR environment, strategies and tactics
-
PR and communications tools that can help achieve your business objectives.
- Conclusion
- Robert Magyar

17:30-18:00
Discussion: Best practice sharing from companies in the room (offline)
Q&A
About the speaker