Date & Time (Beijing) :

Nov 15, 4:30 pm - 7:00 pm, 2021
Date & Time (Brussels) :

Nov 15, 9:30 am - 12:00 pm, 2021
Venue :

Online (Zoom) & Shanghai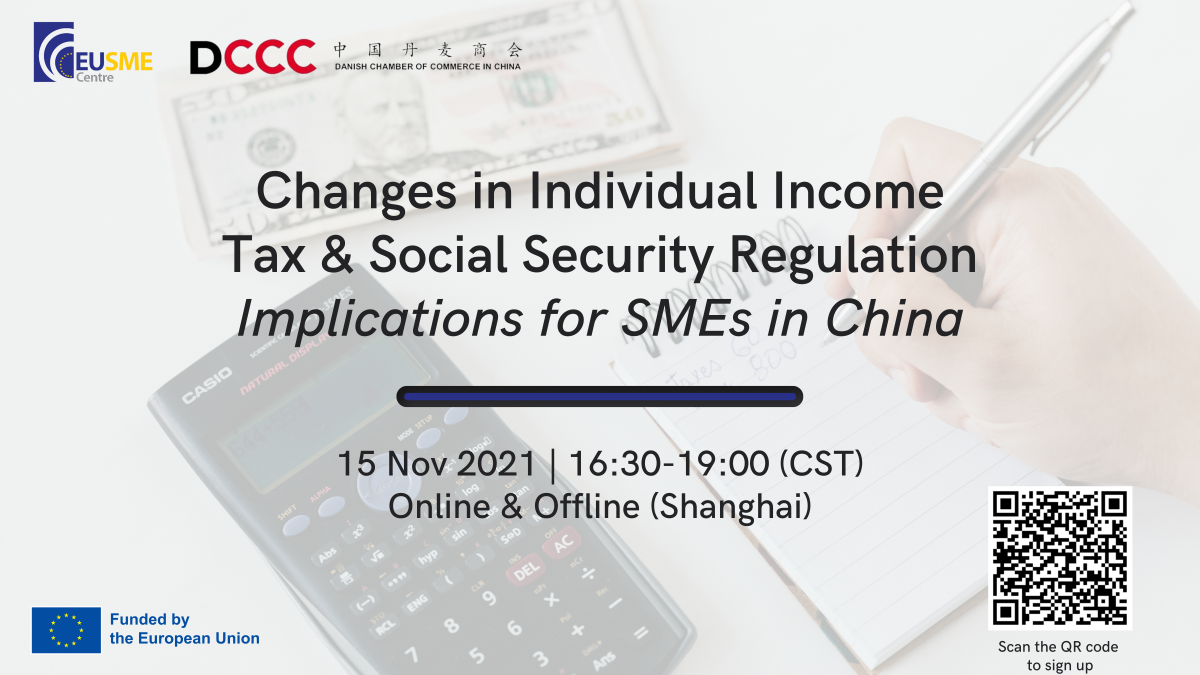 Are you aware that the preferential Individual Income Tax (IIT) policy would be ceased by the end of 2021? What does that that this means for the company and the employee?
Certain preferential tax policies have applied throughout the years, making it more attractive for international talent to come and work with International – and European – companies.
The EU SME Centre and the Danish Chamber of Commerce in China (DCCC) are happy to invite you to join a workshop dedicated specifically to what the impact that this Individual Income Tax policy change will mean for companies looking to China, as well as those who are already here. What do you need to report back to your colleagues in Europe?
This hybrid workshop will take place both offline in Shanghai, and online on Zoom.
The expert will address practical topics such as the impact on such preferential IIT policy termination and how to be compliant and which implications it has on your tax payments.
You can find the recorded webinar on YouTube here:
Please note that the below times are in China Standard Time (CST)

16:30 - 17:00 Registration at venue (for offline participants)
17:00 - 17:10
Welcome and introduction of EU SME Centre
- Nicolai Lundsbjerg, General Manager, Danish Chamber of Commerce in China
17:10 - 17:40
Presentation of IIT preferential policy impact on European SMEs in China
- Daria Kruk, TMF Group
17:40 – 18:10
Presentation of IIT preferential policy impact on European SMEs in China
- Grace Lin, Cuatrecasas
18:10 - 18:30
Q&A and Discussion
18:30 – 19:00
Networking (only offline)
About the speaker: