Date & Time (Beijing) :

Sep 24, 2:00 pm - 5:00 pm, 2021
Date & Time (Brussels) :

Sep 24, 8:00 am - 11:00 am, 2021
Venue :

Online (Zoom) & Offline (Shanghai)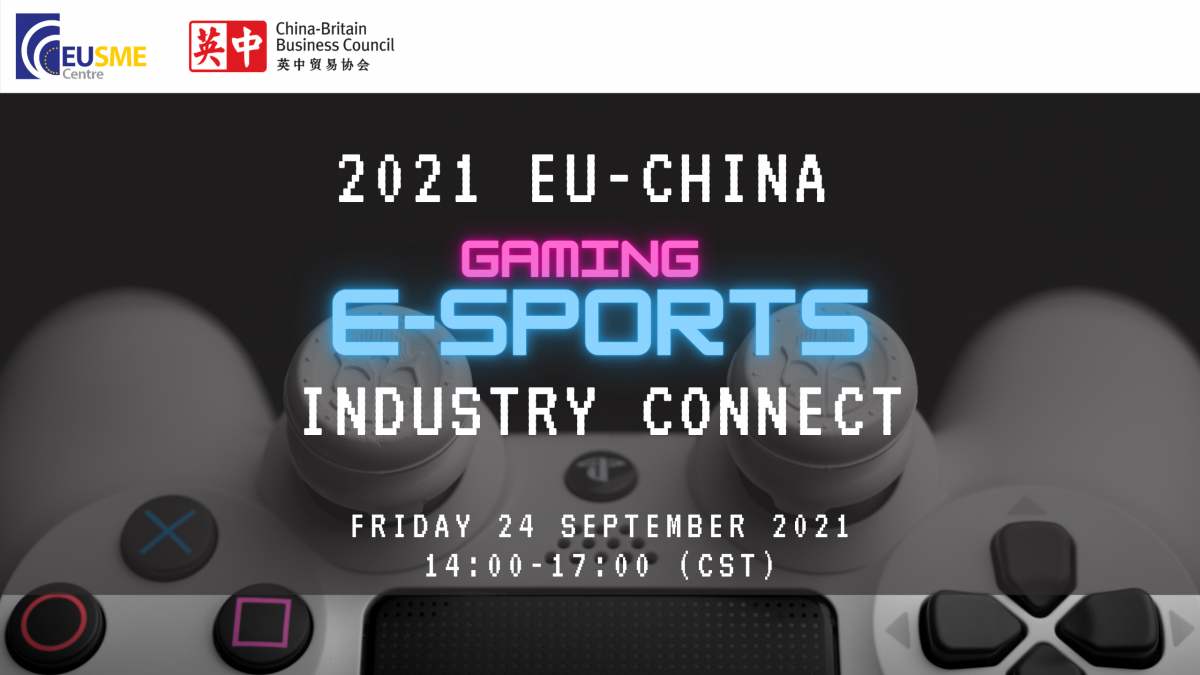 The EU SME Centre and China-Britain Business Council are organising, on 24 September 2021, a Europe-China Gaming & E-sports Industry Connect event. The event will take place in hybrid format (online+offline in Shanghai).
China is one of the most dynamic markets for the gaming & e-sports industry. The Chinese gaming market is expected to register at 14% CAGR during the forecast period 2021-2026. Within the gaming industry, mobile games occupy the largest market share. According to SensorTower listing, the top 30 Chinese game publishers accounted for 26 percent of the global mobile gaming revenue for June 2020.
Several international companies are entering the Chinese gaming & e-sports market, either by acquiring shares in Chinese gaming vendors, by sponsoring professional players' teams, or by jointly developing new games. Other common means include developing games for Chinese companies, or selling gaming apps through Chinese mobile stores.
The purpose of this industry connect is to help European gaming & e-sports companies interested in exploring the Chinese market, to connect with China's biggest players in the sector, by facilitating contacts and exchanges. Specifically, the event will be divided in two parts:
Presentations on the Chinese and European gaming & e-sports sector, and sharing of successful cases of cooperation between European and Chinese companies, including in terms of IP development, localisation, investment, etc.
Industry connect between European and Chinese gaming & e-sports companies interested in exploring cooperation opportunities
In particular, during the industry connect session, participants can actively interact with each other in the event chat, by sharing content, demos, links to their products/services as well as contact details for follow up: all European gaming & e-sports companies can attend, regardless of their previous experience with China, country of origin and size.
At the same time, during the industry connect session, 4 European companies will be presented in detail either through pre-recorded video, or livestreaming presentation. These will be selected based on criteria such as: (i) previous planning for the Chinese market (priority to those with existing plans for China but not yet in the market); (ii) geographical balance (priority to less represented countries); (iii) size of the company (priority to smaller companies)
All interested European companies should register on the event's dedicated platform (link below), and fill in a set of information illustrating their strengths, flagship products/services, and what they are looking for in/with China. Video/demos encouraged to be shared. The EU SME Centre will collect these information, translate in Chinese, and send to Chinese gaming/e-sports companies and association before, during and after the event
The event is free and no costs involved at any stage.
The event is organised in partnership with the National Base for International Cultural Trade (Shanghai), the Shanghai Online Game Association, and the Shanghai E-Sports Association. Their official and semi-governmental nature will ensure a high-level of participation and reliability of the Chinese gaming and e-sports participants.
Deadline for registration: 31 August 2021
Interested in joining? Sign up here
____________________________
Types of companies targeted:
Developers; designers; publishers; platforms; providers of content, legal services, localization services, etc.
Chinese companies attending:
Around 20-25 gaming & e-sports companies, including: NetEase, IGG, ByteDance, Bilibili, Huawei Cloud, GamePlus, Perfect World, ADFLY, Uniu Game, Yugong Group, Dan Game, Heitao Interactive, 9You, StarO, KingNet, GG Games, Transsion, 76Game, Zhaohe Network, CEC, Xipu Game, XFUN Games, Fangqu Network, Youya, Yunchan, Shengqu Games, Arden Game, Bajin Technology.
__________________________________
Agenda
08:00 – 08:10 (CEST): Opening remarks & scene setting
08:10 – 08:30 (CEST): Overview of the Chinese and European gaming & e-sports market
European and Chinese gaming/e-sports associations
08:30 – 08:50 (CEST): Experience sharing: Europe-China collaboration in gaming & e-sports sector
Two European companies, two Chinese companies
08:50 – 09:10 (CEST): Coffee break
09:10 – 11:00 (CEST): Industry connect
Presentation (pre-recorded video or livestream) of 4 European and 4 Chinese gaming / e-sports companies interested in cooperation
Other European and Chinese companies interact in event chat
Format: Online on Zoom; offline in Shanghai (link and specific venue will be shared later)
Language: English and Chinese (with simultaneous translation available)
________________________________________________________
On 22 July 2021 we held an introductionary webinar on the topic, to present to European gaming & e-sports companies the opportunities, needs and challenges for potential business cooperation with Chinese counterparts. You can find the presentations for the webinar here and you can watch the recorded webinar on YouTube here.