Date & Time (Beijing) :

Sep 18, 3:00 pm - 4:30 pm, 2021
Date & Time (Brussels) :

Sep 18, 9:00 am - 10:30 am, 2021
Venue :

Business & Innovation Centre for China-Europe Cooperation (CCEC), F5 Yinxing Hall, 中国欧洲中心F5 银杏厅
Address :

No. 1577, Middle Section of Tianfu Avenue, Chengdu, P.R.China 四川省成都市高新区天府大道中段1577号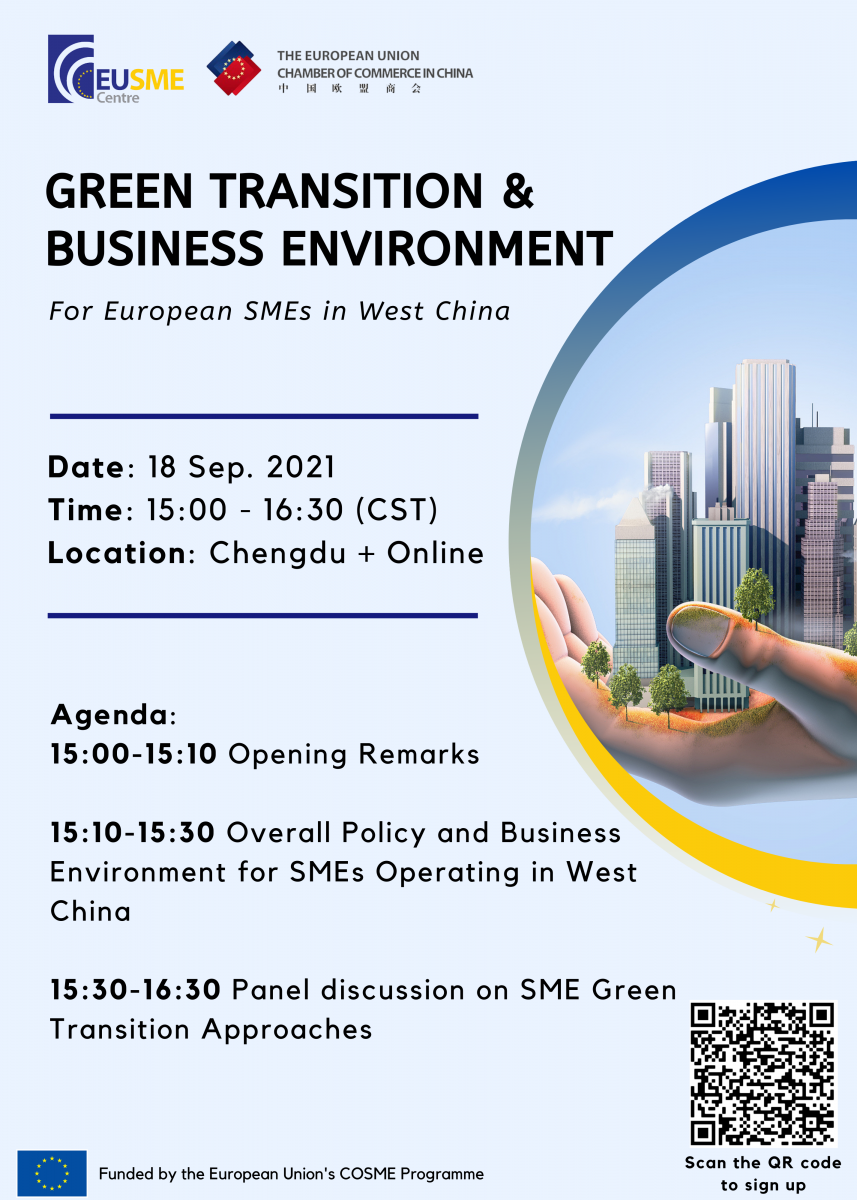 China has vowed to reach carbon emissions peak by 2030 and become carbon-neutral before 2060, while the European Green Deal seeks to achieve climate neutrality across Europe by 2050. Under this context, Small and Medium-sized Enterprises (SMEs) play a crucial role in this green transition, given their contribution to global economic activity, social well-being, and environmental footprint.
The EU SME Centre and the European Union Chamber of Commerce are pleased to invite you to our upcoming working group meeting on Green Transition and Business Environment for European SMEs in West China on 18 September, 15:00-16:30 (CST), as a sub-forum of the 16th EU-China Business & Technology Cooperation Fair in Chengdu.
The following topics will be covered in this meeting:
What is the overall policy and business environment for European SMEs operating in West China?
What is the role of SMEs in enabling green and inclusive growth?
What approaches can SMEs take to go green through their products, services, and business practices?
Agenda:
15:00-15:10 Opening Remarks
15:10-15:30 Keynote Speech on the Overall Policy and Business Environment for SMEs Operating in West China
15:30-16:30 Panel discussion on SME Green Transition Approaches, e.g. reducing the environmental footprint of production process, offering green technologies, sustainability-related products and services, etc.
Interested in joining this meeting?
If you are interested in joining this meeting, send an email to Susana Xu at susana.xu@eusmecentre.org.cn, indicating whether you will join in-person (Chengdu) or online.
Speakers