Date & Time (Beijing) :

Sep 17, 3:00 pm - 5:00 pm, 2021
Date & Time (Brussels) :

Sep 17, 9:00 am - 11:00 am, 2021
Venue :

Wang Jing & GH Law Firm 广东广悦律师事务所
Address :

14th Floor, Central Tower, 5 Xiancun Road, Zhujiang New Town, Tianhe District 510623 广州市天河区珠江新城冼村路5号凯华国际中心14层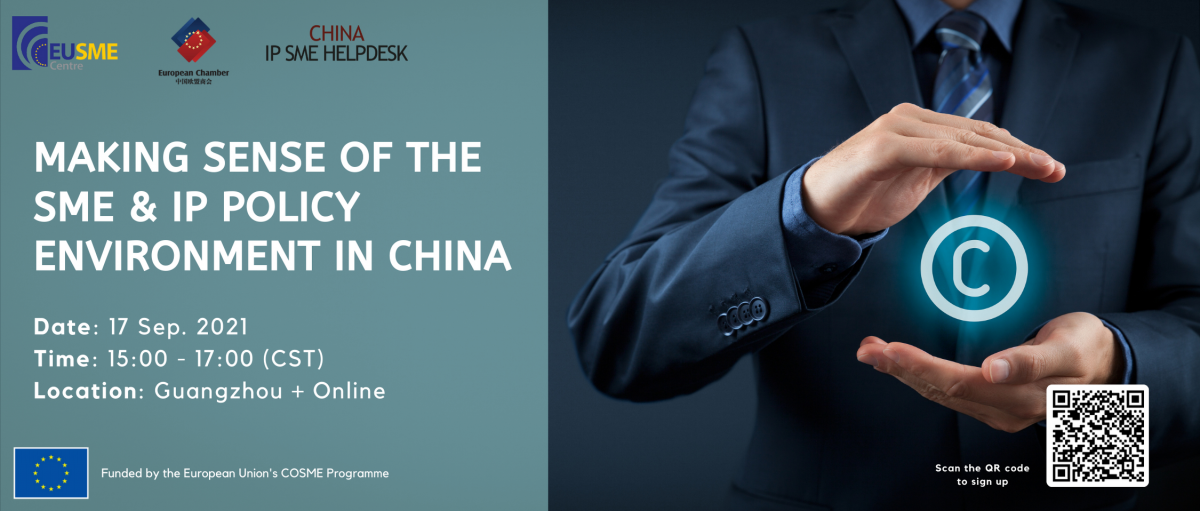 The promotion of a strong business environment conducive to economic development and innovation has been an important part of the Chinese leadership's strategy in the past few years. This process has included the development of measures in areas like IP protection, the streamlining of administrative procedures, the support to entrepreneurs and the protection of the rights of small businesses in cases of late payments, among others. With the COVID-19 having upended the global economy and having caused a severe impact of businesses, it is important to understand where China stands in terms of its toolbox to promote a healthy business environment for companies and entrepreneurs.
The EU SME Centre, the European Chamber and the China IP SME Helpdesk are thus pleased to invite you to join our next meeting, where SME policy and IP experts will provide an overview of recent SME and IP-related policy developments in China, and their impact on European SMEs doing business in China.
Agenda
15:00-15:30 Registration and Networking
15:30-15:40 Opening remarks
15:40-16:30 Presentations by EU SME Centre and IP SME Helpdesk experts
16:30-17:00 Discussion and Q&A

Interested in joining?
If you are interested in joining this meeting, please send an email to Peter Drucker at pdrucker@europeanchamber.com.cn, indicating whether you will join in-person (Guangzhou) or online.
About the speakers
Ester Cañada Amela manages the Advocacy Platform at the EU SME Centre, an EU-funded project implemented by the European Chamber and four other partners. As a part of this work, she manages the Chamber's Standards and Conformity Assessment Working Group, coordinates relations with European institutional stakeholders, and monitors and analyses relevant EU policies.
Ester holds a double masters'degree in European and Asian Affairs from Sciences Po Paris and Fudan University, as well as a BA in Translation from the Autonomous University of Barcelona.
Mr. Matias Zubimendi is the IP Business Advisor at China IPR SME Helpdesk, where he advises European SMEs on intellectual property rights matters. Mr. Zubimendi holds a Master's degree in Chinese Civil and Commercial Law from Peking University as well as a Master's degree in Intellectual Property Law from Austral University in cooperation with the World Intellectual Property Organisation. Mr. Zubimendi worked as a China Business and Legal Consultant at Terragene, where he focused on business development and as a Director of Legal Affairs at Conquer Europe. He also worked as a Patent and Trademark Attorney at Phoebus Abogados and Mazzeo & Canet, where he represented SMEs as well as Fortune 500 companies. Mr. Zubimendi was speaker at various conferences and lectures on Commercial Law and Procedural law.
Related Events
Webinar .

Dec 2 3:30 pm - 5:00 pm