Date & Time (Beijing) :

Sep 17 - 19, All day, 2021
Date & Time (Brussels) :

Sep 17 - 19, All day, 2021
Venue :

Business & Innovation Centre for China-Europe Cooperation (CCEC) 中国欧洲中心
Address :

No. 1577, Middle Section of Tianfu Avenue, Chengdu, P.R.China 四川省成都市高新区天府大道中段1577号
The EU SME Centre, China Chamber of International Commerce and European Union Chamber of Commerce in China are pleased to invite you to participate in the 16th EU-China Business & Technology Cooperation Fair (hereinafter referred to as "EU-China Fair") , which will be held from 17-19 September, 2021 in Chengdu, Sichuan province.
The EU SME Centre will participate in the fair and Centre Director, Renzo Isler, will contribute with a speech during the opening ceremony of the fair. On 18 September, the EU SME Centre will host the next Working Group meeting on 'SME Green Transition & Business Environment for European SMEs in West China' from 15:00 - 16:30 (CST). Read more and sign up for the event here.
As a part of the famous Western China International Fair (WCIF) 2021, the upcoming EU-China Fair has gained constant support from the Ministry of Foreign Affair, the Ministry of Commerce, China Council for the Promotion of International Trade (CCPIT), the Sichuan Provincial People's Government and the EU Delegation in China as well as other government sectors and organizations, and is co-organized by CCPIT Chengdu Sub-council, Management Committee of Chengdu Hi-Tech Industrial Development Zone, and Chengdu Chamber of International Commerce (CCOIC Chengdu).
China and the EU are important economic and trade partners with strong economic complementarity and great potential for cooperation. Last year, China overtook the US as the EU's biggest trading partner, according to EU statistics agency Eurostat. And according to China's General Administration of Customs, the EU becomes the second-largest trade partner of China in the first half of this year. The close business exchanges in a wide range of areas of cooperation between China and the EU is conducive to enhancing the well-being of the people on both sides, coping with global challenges and promoting the recovery of the world economy. The yearly EU-China Fair will fully play its function to fulfill the aim of facilitating the communication and cooperation between Chinese and European business community.
This year, experts and representatives from the Institute of European Studies of Chinese Academy of Social Sciences (CASS), Commercial Legal Services Center of China Council for the Promotion of International Trade (CCPIT), Sichuan Energy Internet Research Institute Tsinghua University, EU SME Centre, EU IPR Helpdesk, European countries' embassies and consulates in China, European chambers of commerce and other business organizations, Chinese government sectors, CCPIT sub-councils and branches have been invited toshare their cutting-edge ideas with other 600 attendees on the hottest topics, relevant policies and projects between China and the EU.
Beyond the knowledge and information released in the Fair, the opportunity of face-to-face meeting with your counterparts in Chinese business communitywill be a more rewarding experience. Focused on digital economy, intelligent manufacturing, energy, environmental protection, automobile, logistics, bio-medicine and other fields, the B2B Matchmaking simply requires your profile and business request, and all the rest work will be done by us to search and invite your potential business partners in China to meet with you in the Fair.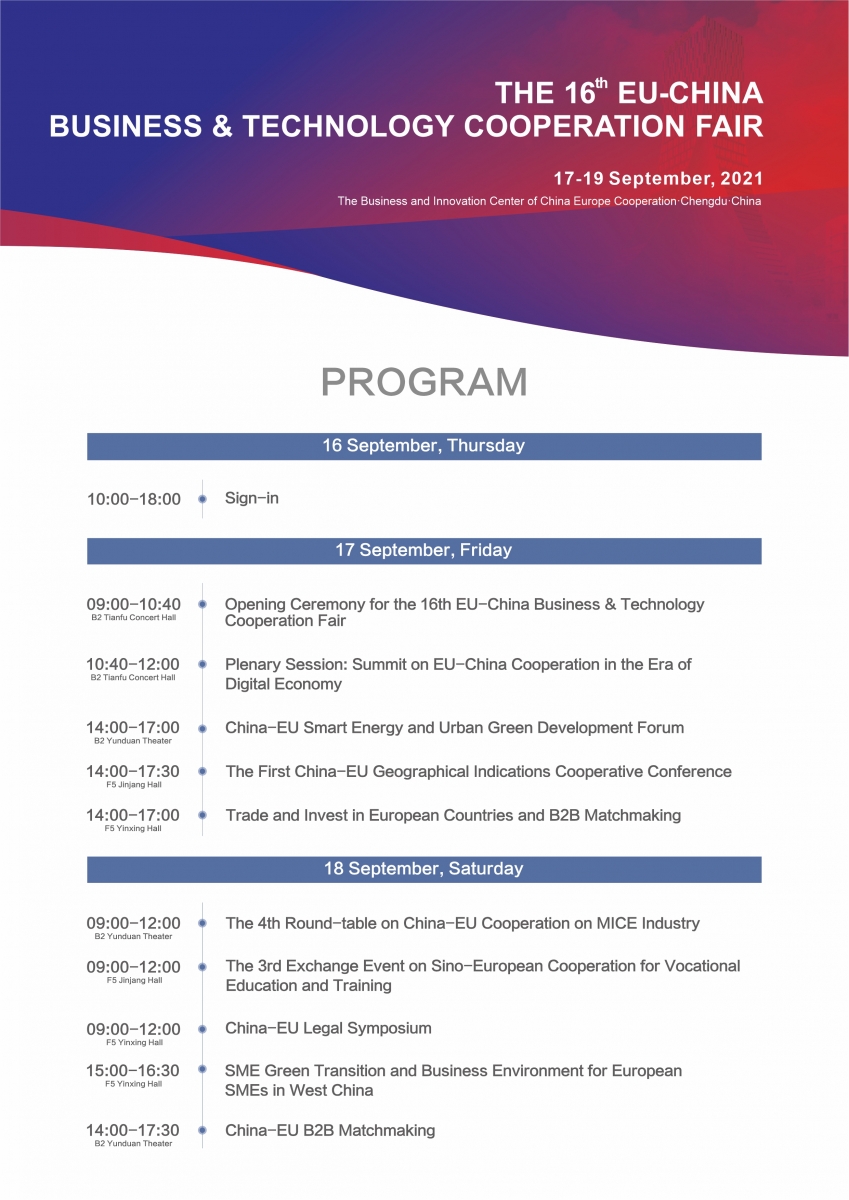 _______________________________________
HOW THE B2B MATCHMAKING WORKS & SIGN UP
China-EU B2B Matchmaking scheduled for 18 September will focus on digital economy, smart manufacturing, energy, environmental protection, automobile, logistics, bio-medicine, and other fields. A detailed and accurate profile will raise your visibility and connection to your potential business partners on this platform.
Step 1
Set up a profile
After registration, click the link below to describe who you are, what you can offer to potential partners and who you want to cooperate with. Our website will be available soon, and your company/organization's profile will be visible on the website to all participants, and we will promote it through all available channels to find you the right partner.
(Tips: Language can be switched at the bottom of the profile page.)
Click the link below to set up a profile
https://m.chinafuturelink.org/#/activity/single_form?activity_id=60a374ae419a8a2f0704b039
Step 2
Scheduling appointments 2021.8.23-9.9
Browse published participants profiles on our website (will be available soon) and send meeting requests to those you want to meet at the event. Be prepared to respond to potential partners who are interested in what your company/organization offers. Accepted meeting requests will be scheduled automatically.
Step 3
Confirmation 2021.9.10-9.11
Before the event you will receive an email with your detailed meeting schedule. Please confirm your attendance by replying.
Step 4
Matchmaking meetings 2021.9.18
Show up and meet with the partners you've chosen!
Disclaimer:
Participants must ensure have no travelling or living history of high risk areas recently and maintain proper social distancing norms and abide by the Chengdu Municipal Government's Epidemic Prevention and Control Rules. If you do not follow the relevant regulations, the EU SME Centre accepts no responsibility for any physical discomfort you may experience during or after the event. All of the guests will be required to wear a mask during the meeting. Thank you for your understanding and cooperation!