Date & Time (Beijing) :

Jul 8, 4:00 pm - 5:30 pm, 2021
Date & Time (Brussels) :

Jul 8, 10:00 am - 11:30 am, 2021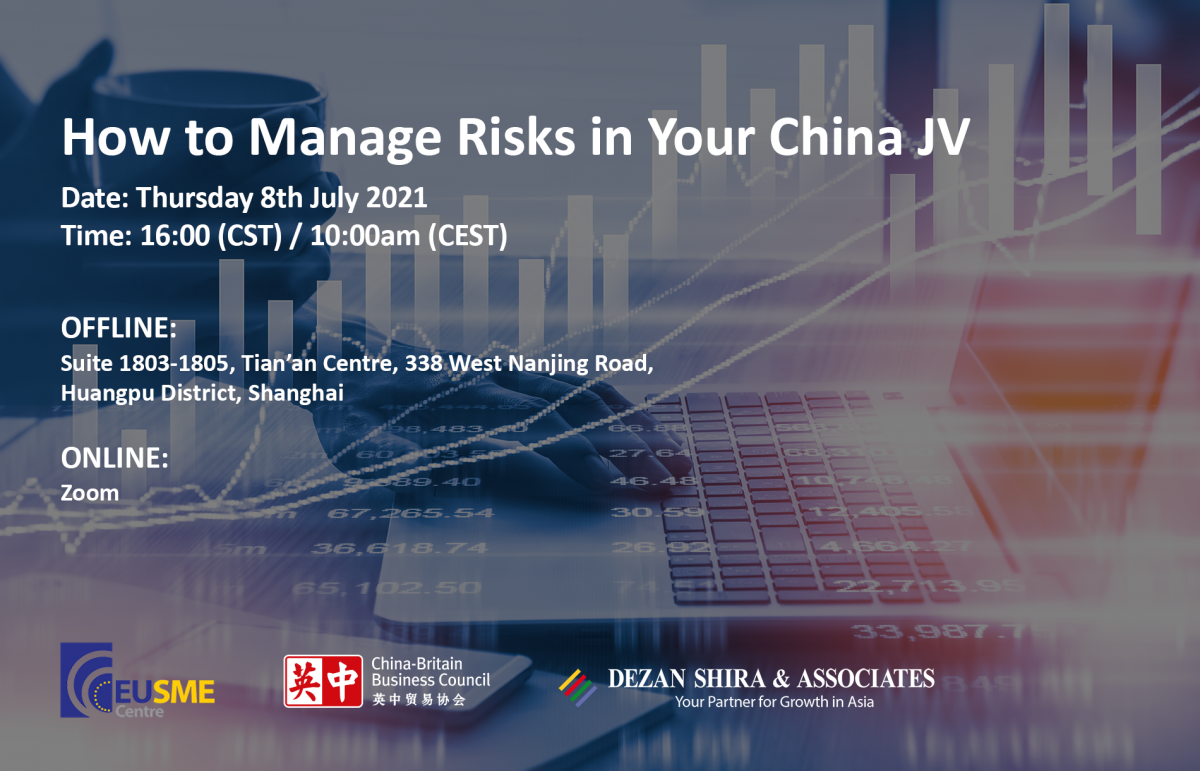 The EU SME Centre and China Britain Business Council are pleased to invite you to participate in a hybrid workshop on 'How to Manage Risks in Your China JV', which will take place on 8 July from 10:00-11:30 (CEST) | 16:00-17:30 (Beijing time). The workshop will take place offline in Shanghai and online on Zoom.
Setting up a Joint Venture (JV) is one of the many ways for foreign investors to enter the Chinese market. Having a Chinese partner provides investors with several benefits in the market that are both useful and economical. While the advantages of joint ventures in terms of enhanced market reach and access to particular industries may be clear, concerns from foreign investors keep increasing, primarily due to travel restrictions.
Just over a year ago, China implemented a new set of entry restrictions to control the spread of the Covid-19 pandemic. These restrictions have raised many concerns and questions for foreign nationals who own Joint Ventures, who are not allowed to enter China temporarily.
"How do I retain control of a JV" became a burning question to consider.
In this event, Allan Xu, Head of Legal Advisory Services, and Jenny Liao, Head of Corporate Accounting Services from Dezan Shira & Associates, will break down common challenges and approaches in which owners can manage risks in their Joint Ventures.
What are the common risks and issues for JVs?
How to control a JV under PRC law?
How to know the operational status of your JV?
How to protect IP rights and trade secrets?
How to manage a deadlock and exit mechanisms?
What are the relevant legal requirements under the Foreign Investment Law?
Agenda:
16:00 – 16:15 (CN)
:
Opening remarks &
Introduction & Policy updates
-
Adam Livermore, Partner, Dezan Shira & Associates
-
Joe Cash, Policy Analyst, CBBC
16:15 – 17:15 (CN)
:
Keynote speech – How to manage risks in your China JV
- Allan Xu, Senior Manager, Business Advisory Services, DSA
- Jenny Liao, Senior Manager, Corporate Accounting Services, DSA
17:15 – 17:30 (CN)
Q&A, Networking
Interested in participating? Sign up here

About the speakers
Yu Lin
Yu Lin leads on technology and innovation China work in CBBC based in Beijing. She provides strategic consultancy to British companies about business market analysis and development in China, and is also in charge of building and maintaining long-term relationships with UK and Chinese stakeholders, including government bodies, key industry associations and companies, leading think tanks and incubators and investors in innovation and technology sector.
Yu has seven years' experience of working in international organisations, having worked in consulting, project management, marketing and international collaboration. Yu started her career at PlaNet Finance, leading a Europe Commission-funded multi-year urbanization programme for four years, and during that time acquired comprehensive experience in project management, consulting and business development. She also built up deep knowledge and insight of China urbanisation programme.
Prior to working at CBBC, she was sector lead for smart city and digital economy lead in the Science and Innovation Network at the British Embassy in China for three years, where she developed and maintained a strong network consisting of governmental organizations, leading innovation institutes, and industry participants. She is one of the initiators to drive open government data to enable smart city solution and economy development in Embassy, and the one enables UK start-up companies accessed to Shanghai smart city data.
Yu joined CBBC in October 2017 as Assistant Director of Innovation and Technology, and is based in Beijing. She obtained her master's degree in Finance from the University of Lugano in Switzerland.
Allan Xu, Senior Manager, Business Advisory Services, DSA
Allan Xu is a senior manager on the Business Advisory Service team at Dezan Shira & Associates' Shanghai office. She provides legal advisory on FDI investment vehicle, investment structure, deal structure, capital structure, incorporation, daily operation, mergers & acquisitions, restructuring, liquidation, contract drafting and review, intellectual property protection, trademark registration, labor law, labor arbitration, work permits and residence permits for expatriates. She is also familiar with incorporation of different types of Singaporean entities such as private limited companies, branches and representative offices etc.
Prior to joining Dezan Shira & Associates, Allan worked as an arbitrator in a district Arbitration Institute in Shanghai from 2007 to 2013, then joining a multinational consulting firm providing legal advisory services and corporate secretarial services to foreign investors. In 2013 and 2014, she worked in Singapore for 7 months to assist Chinese investors doing business in Singapore.
With more than 14 years of legal practice, Allan is experienced in incorporation, corporate compliance, mergers and acquisitions, restructuring, legal due diligence, project investment, international trade, offshore investment, intellectual property, labor law, contract review and drafting, dispute settlement, arbitration and litigation. She has dealt with more than 2,000 labor arbitration cases as a labor arbitrator.
Allan has a degree in Law from East China University of Political Science and Law, and also holds the Certificate of Lawyer's Qualification.
Jenny Liao, Senior Manager, Corporate Accounting Services, DSA
Jenny Liao is a Senior Manager on the Corporate Accounting Service and Tax team for Dezan Shira & Associates' Shanghai office. Before joining Dezan Shira & Associates, Jenny worked as associate director in a Singapore-listing company's China subsidiary, managing teams in mainland China providing accounting and tax service for foreign invested companies.
With more than 17 years of international consulting experience, Jenny is experienced in accounting, tax compliance & planning, finance management & analysis, etc. Jenny graduated from Shanghai JiaoTong University with a master's in professional accounting. She is a qualified China Accountant and member of the Association of International Accountants (AIA).