Date & Time (Beijing) :

Jun 29, 4:30 pm - 6:00 pm, 2021
Date & Time (Brussels) :

Jun 29, 10:30 am - 12:00 pm, 2021
Venue :

EU SME Centre Office + Zoom
Address :

3-2-21 Sanlitun Diplomatic Residence Compund, GongtibeiluNo. 1, Chaoyang District, Beijing, China 北京市朝阳区工人体育场北路1号,三里屯外交公寓3号楼2单元021号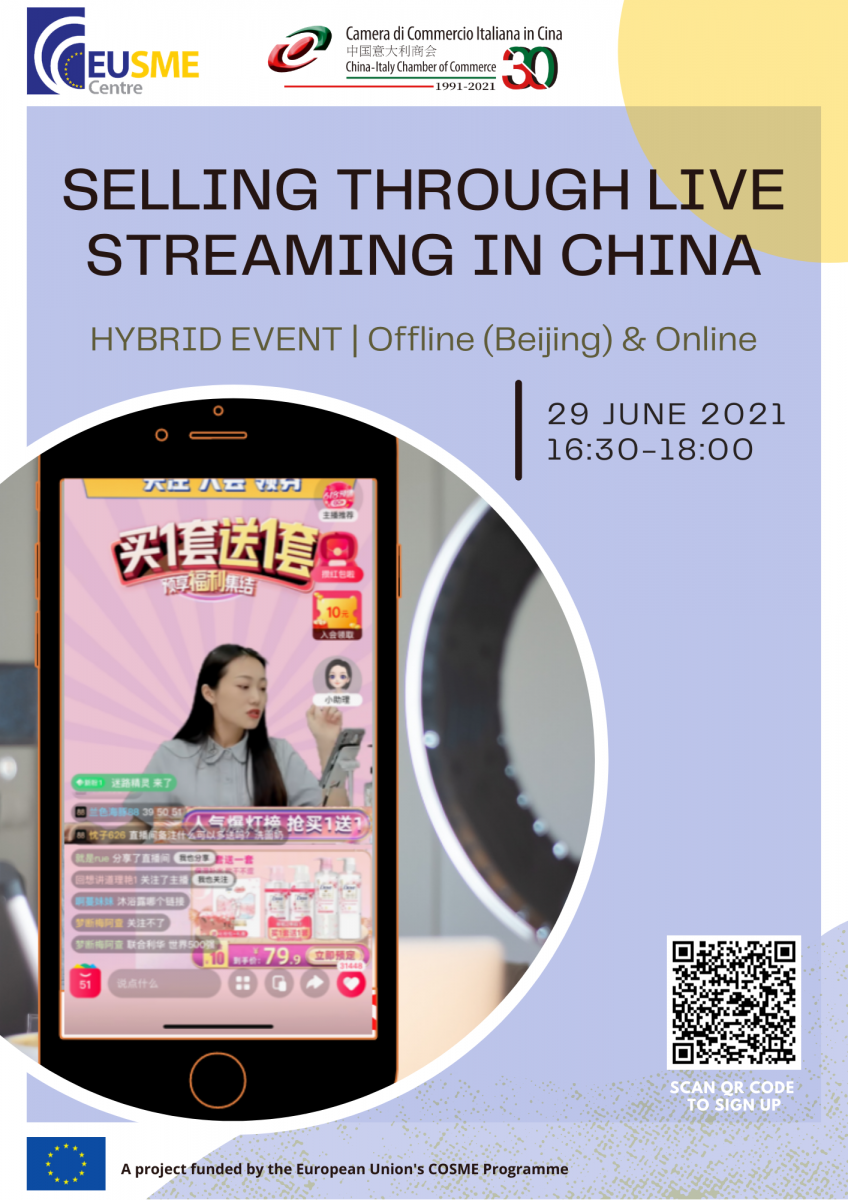 The e-commerce in China is highly developed and COVID lockdowns propelled it even further. Livestreaming E-Commerce is an increasing trend for promoting and selling goods through influencer streams through platforms like Alibaba's Taobao Live, and other large Chinese tech and e-commerce players, like Baidu and JD.com, Livestreaming is another way for brands to gain awareness and to reach customers.
In this context international brands could consider livestreaming as a tool to enter or consolidate their presence in the Chinese market. At the same time livestreaming is characterized by complexity and does not necessarily suit all companies.
The EU SME Centre and the China Italy Chamber of Commerce are happy to invite you to participate in this hybrid workshop on how to sell through live streaming in China. The workshop will be held on 29 June 2021 from 16:30 to 18:00 (China standard time) both online and offline at EU SME Centre Office / CICC Beijing Office.
The workshop is aimed at providing insights on the use of Live Streaming channels to sell products and services in China. The event is addressed to the EU SMEs that want to approach or grow in the Chinese market.
During the event, our guest speakers will lead the discussion on Live Streaming presenting concrete company experience and providing suggestions on how to engage and work with KOLs.
You can find the recorded webinar on Youtube:
Agenda:
16:30 Welcome remarks
- EU SME Centre and CICC
16:40 "Overview on Live Streaming Sales"
- Ambra Schilliro', Co - Founder and PR and Marketing Director, Social Cloud
17:00 "LIVESTREAMING: Trick or treat? – Risks and Opportunities from a Brand's point of view"
- Giorgio Berni, Managing Director APAC, Ganassini Corporate
17:20 "Doing live-streaming through the point of view of a KOL"
- Angelina Saiyi Li, Founder/ CEO of LYRRA, TV hostess , Online streaming KOL
17:40 Q&A and conclusions

About the speakers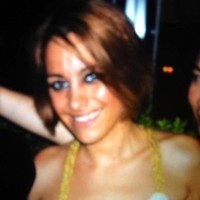 Ambra Schilliro
Co - Founder and PR and Marketing Director, Social Cloud
Ambra Schillirò was born and grew up in Catania, Italy. She worked in her first newspaper and in her first television when she was 18 years old. Professional Member of the Italian Journalist Association from 2002, accredited expert of the World Women's Media Center as Marketing and PR expert for China from 2015. When she arrived in China, she started to help companies with influencer marketing, media relations, press conferences, and social media. In 2014 she founded the digital and public relations company Social Cloud, a PR, marketing, social media, and influencer agency that helps foreign and local brands in the Asian market.

Managing Director APAC, Ganassini Corporate
More than 10 years in Multinational companies, currently managing Ganassini Group over APAC Region since 2019, with primary focus on China. Working with Chinese market since 2014, moved to Shanghai in 2017. Within China, now leading a local team of 10 people and cooperating with an extended network of local agencies and distributors.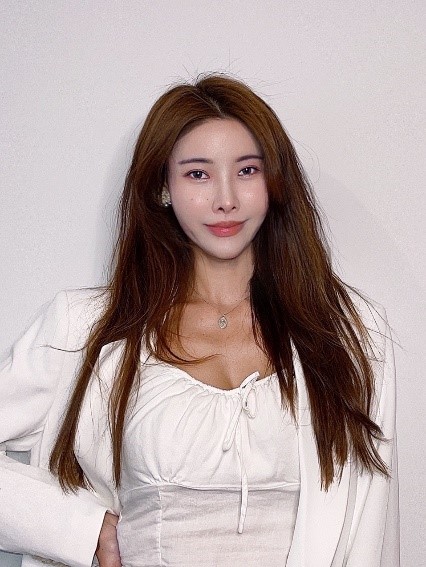 Angelina Saiyi Li
Founder/ CEO of LYRRA CITIC Bank / VISA black card restaurant guide book publisher, TV hostess of PPTV (Suning.com), Online streaming KOL
More than 15 years experience in PR, marketing and media industry. Been modeling for over 100 brands since 14 years old. Founder of media and PR company LYRRA since 2016 and USA first shareable charging company POP Charge since 2019. Published over 8 restaurants guide books with CITIC Bank and VISA.