Date & Time (Beijing) :

Jun 25, 2021, 4:00 pm - 6:00 pm
Date & Time (Brussels) :

Jun 25, 2021, 10:00 am - 12:00 pm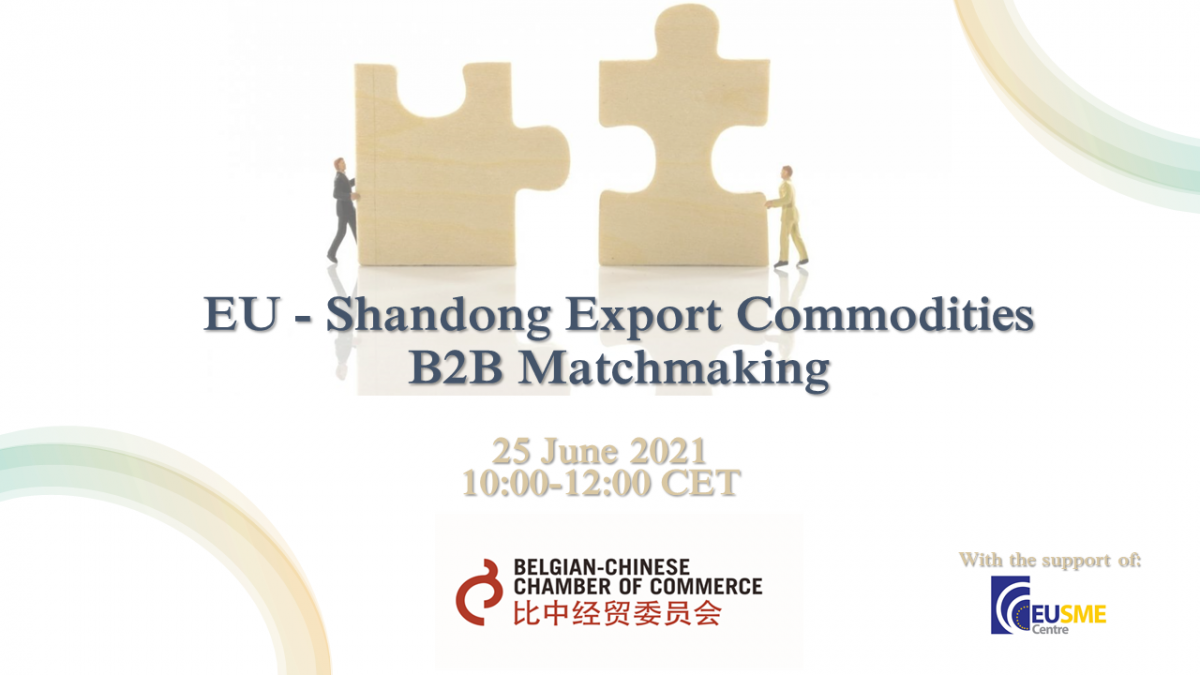 Even though the COVID-19 crisis has made it difficult to travel and to organize live business meetings, it remains important for European businesses to stay connected and to discover new business opportunities.
We are happy to announce the online "EU-Shandong Export Commodities B2B Matchmaking" organised by the Belgian-Chinese Chamber of Commerce in cooperation with the EU SME Centre on 25 June , 2021 at 10:00 Central European Summer Time (CEST) (16:00 China Standard Time).
Shandong is a coastal province located in Eastern China, an illustrious hub for the maritime economy and one of the largest producers of agricultural goods, livestock, and fisheries. Shandong province is also known as the most important production center for the light and heavy industry in China. It ranks as China's second most populous province, with a population of 100.7 million inhabitants, covering a total surface area of 157,100 km².
Who should attend? Belgian/European companies who are looking for Chinese suppliers in the following sectors: hardware & building materials, mechatronics, agricultural products & food, home appliances, health sector, etc.
Agenda:
10:00–10:20: Short introduction
10:20–12:00: Online one-on-one meetings in breakout rooms (minimum three meetings)
Location:
Zoom (link will be sent out to the participants upon registration).
Registration:
Free, but registration is mandatory. Register now here
Registration deadline: before 18 June 2021
The list of Chinese companies can be found on the right upper quadrant of this page.