Overview of the revised patent law and copyright law
Date & Time (Beijing) :

Jun 18, 2021, 3:00 pm - 4:30 pm
Date & Time (Brussels) :

Jun 18, 2021, 9:00 am - 10:30 am
Venue :

European Chamber Beijing & Shanghai Office / Zoom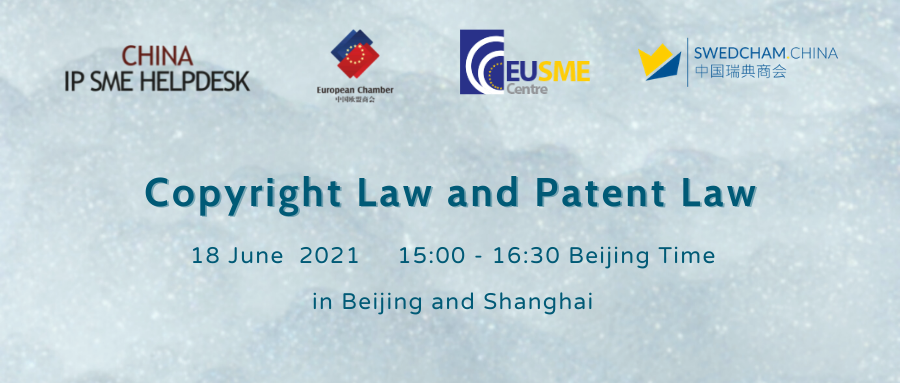 The EU SME Centre, the European Union Chamber of Commerce in China and the Swedish Chamber of Commerce in China along with the China IP SME Helpdesk, are thus pleased to invite you to our upcoming Working Group Meeting on the revised Copyright Law and Patent Law on 18th June from 09:00-10:30 (CEST) | 15:00-16:30 (Beijing).
The event will take place both offline at the European Chamber Beijing and Shanghai office and online on zoom.
Insufficient patent and copyright protection and enforcement in China has been a long-standing problem. Finally, on 1st June 2021, the revised Patent Law and Copyright Law have entered into force, bringing along substantial changes such as the creation of the patent linkage system, the introduction of the open license system and the extension of copyrightable works. It is particularly important for foreign companies doing business in China or interested in the Chinese market to understand the recent changes, thus protecting their intellectual properties and legal rights. During this meeting, Mr. Xiaofan Chen from AWA Asia Limited will explain the revised Patent Law, while Mr. Matias Zubimendi from China IPR SME Helpdesk will analyse the changes established in the revised Copyright Law.
You can find the recorded webinar on Youtube:
Agenda
15:00 - 15:05 Welcoming remarks by Songxi Guo, Vice Chair of IPR Working Group
15:05 - 15:10 Introduction of China IPR SME Helpdesk services by Ms Helika Jurgenson
15:10 - 15:40 Presentation on the new Patent Law by Mr. Xiaofan Chen
15:40- 16:10 Presentation on the new Copyright Law by Mr. Matias Zubimendi
16:10- 16:30 Q&A Session and closing remarks
About the speakers
Mr. Xiaofan Chen
Partner, Patent Attorney at AWA Asia Limited
Xiaofan frequently provides clients with opinions on patent validity, patent infringement and freedom-to-operate analysis matters. He also advises on agreements for transferring or licensing patents, non-disclosure agreements/ trade secret issues and commercial aspects of patent rights. Xiaofan's experience and track record in contentious work brings a valuable dimension to the non-contentious patent prosecution and advisory work he undertakes for clients.

His technical fields include mechanical engineering and manufacturing, laser imaging and printing/ packaging technology, computer science, internet technology, e-commerce, and business methods. In addition to having extensive experience in filing applications and securing patents on behalf of international clients before the State Intellectual Property Office (the Chinese Patent Office), Xiaofan is experienced in assisting domestic applicants in securing their patent rights before major patent offices in other jurisdictions.
Mr. Matias Zubimendi
IP Business Advisor at China IPR SME Helpdesk
Mr. Matias Zubimendi is the IP Business Advisor at China IPR SME Helpdesk, where he advises European SMEs on intellectual property rights matters. Mr. Zubimendi holds a Master's degree in Chinese Civil and Commercial Law from Peking University as well as a Master's degree in Intellectual Property Law from Austral University in cooperation with the World Intellectual Property Organisation. Mr. Zubimendi worked as a China Business and Legal Consultant at Terragene, where he focused on business development and as a Director of Legal Affairs at Conquer Europe. He also worked as a Patent and Trademark Attorney at Phoebus Abogados and Mazzeo & Canet, where he represented SMEs as well as Fortune 500 companies. Mr. Zubimendi was speaker at various conferences and lectures on Commercial Law and Procedural law.
Mr. Songxi Guo
Senior Patent Counsel at BAYER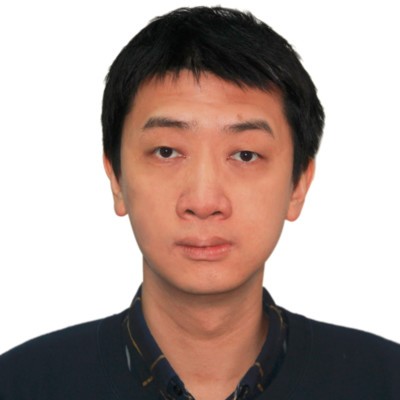 Experienced Patent Counsel with a demonstrated history of working in the life science industry both externally and inhouse. Skilled in Patent Law, Biotechnology, Licensing, Intellectual Property, Patent Prosecution/defense, enforcement.