Home
>
Calendar
> Building Construction Design in China | Opportunity and Roles For Foreign SMEs and Individuals
Date & Time (Beijing) :

May 6, 4:00 pm - 6:00 pm, 2021
Date & Time (Brussels) :

May 6, 10:00 am - 12:00 pm, 2021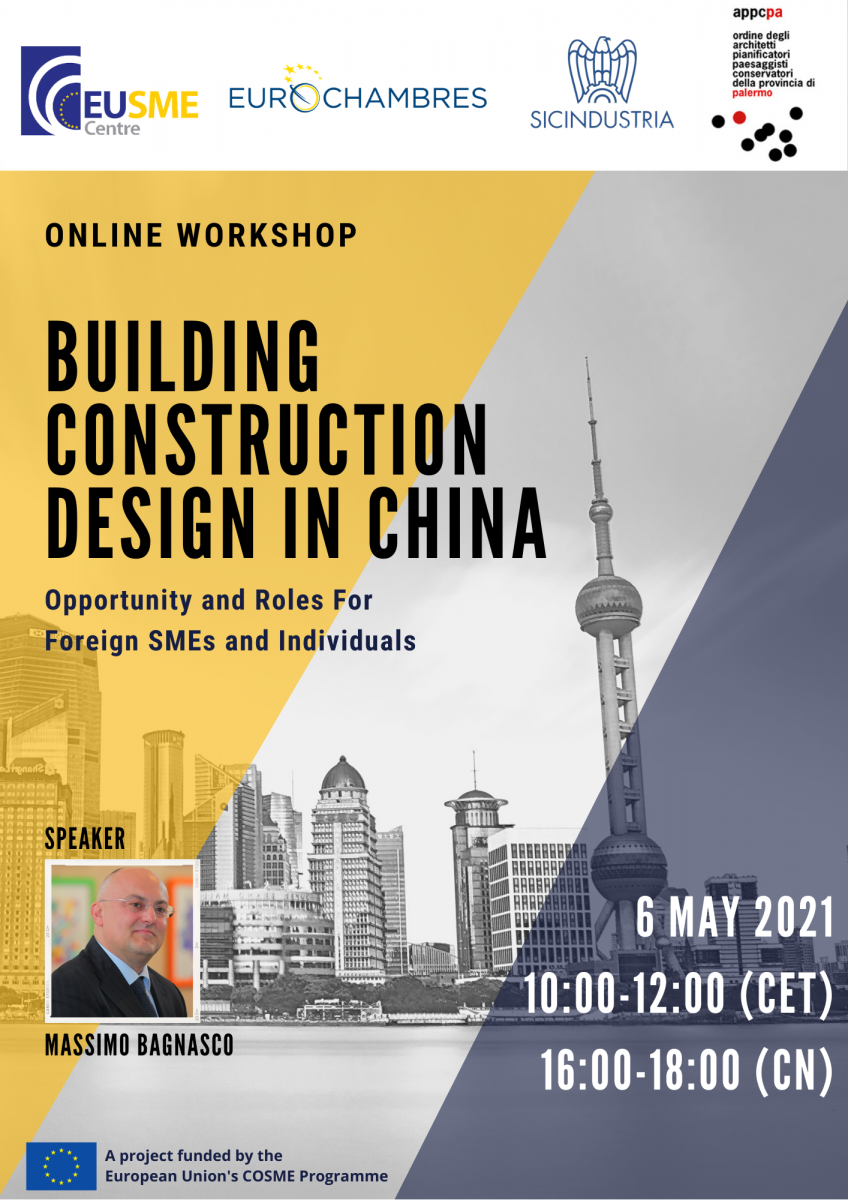 China's construction industry has been a driving force in the country's economy since the 80s, in particular, the majority of the projects have been developed on urban areas. This has caught the attention of foreign architecture and engineering companies which presence in the market has been growing at an unprecedent rate since the 90s.
Foreign architects and related guilds are reputed for quality and creativity and their opportunities usually lie in the commercial real estate sector since the residential property is still dominated by local architects.
This workshop organised by the EU SME Centre, EUROCHAMBRES and Sicindustria with the support of the Ordine degli architetti pianificatori paesaggisti conservatori della provincia di Palermo allows SMEs and professionals operating in the architectural fields to identify market opportunities and set up a road map to China.
Agenda
10:00–10:10 Opening speech: Presentation of the EU SME Centre and the Speaker
10:10–10:30 Introduction to the architecture, engineering and construction ecosystems
10:30–10:50 The Chinese building market for a European architect/engineer, opportunities and access channels
10:50–11:10 Public and private procurement systems in China: Opportunities for European architectural/engineering companies
11:10–11:30 Required skills/roles for overseas personnel involved in the building sectors
11:30–12:45 Case studies
11:45–12:00 Q&A
Interested in joining? Sign up here.
About the speakers
Related Events
Online training .

May 11 3:30 pm - 4:30 pm