Date & Time (Beijing) :

Apr 14, 4:30 pm - 6:00 pm, 2021
Date & Time (Brussels) :

Apr 14, 10:30 am - 12:00 pm, 2021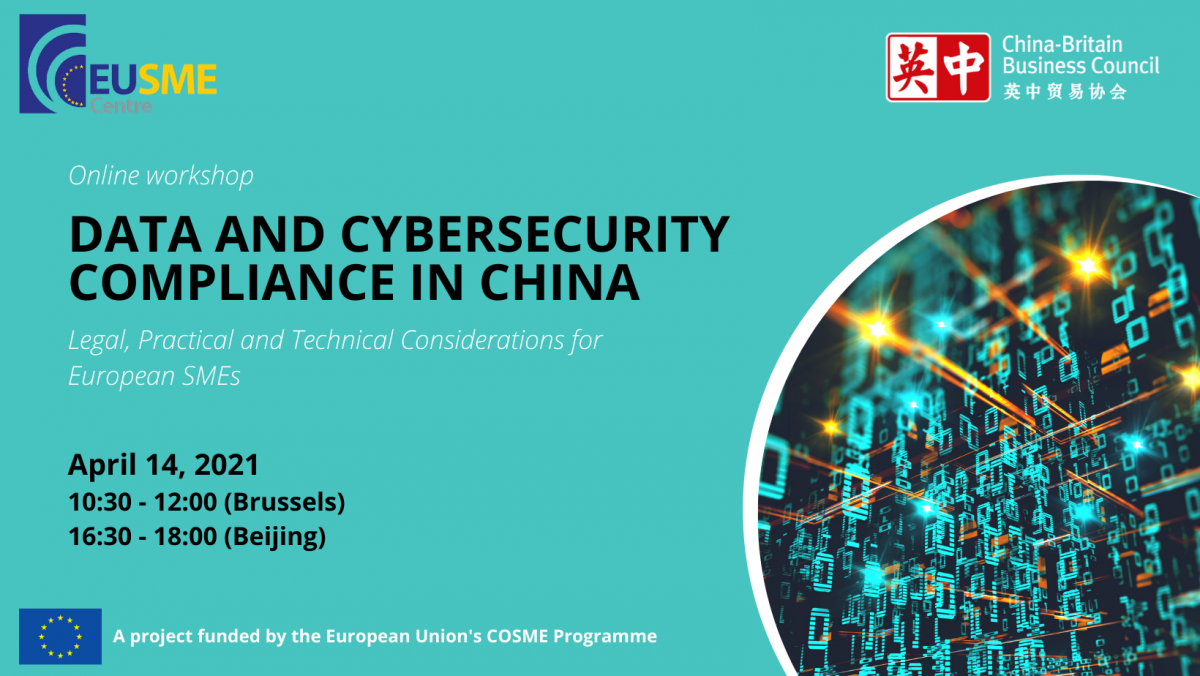 The EU SME Centre and the China Britain Business Council are happy to invite you for our next online workshop on "Data and Cybersecurity Compliance in China: Legal, Practical and Technical Considerations for European SMEs" which will take place on 14 April from 10:30-12:00 (Brussels) | 16:30 - 18:00 (Beijing).
Data protection and cybersecurity are now critical issues for most businesses when trading across international borders. Many businesses now operate business models that rely on the ability to process, store and transfer customer data. European SMEs have largely adapted to GDPR and other national data privacy laws, while an increased awareness of cybersecurity threats have also encouraged business to take stronger measures to improve cybersecurity and protect customer data.
The legal frameworks for cybersecurity and data protection in China, such as the Cybersecurity Law and Draft Personal Information Protection Law (PIPL). are relatively new, and many Western companies have a limited understanding of how to comply with these rules. SMEs operating in China face various restrictions in terms of how access data, as well as how data should be collected, stored, and processed. China's data localisation requirements can restrict cross-border data flows, and there are also a number technical challenges facing companies when setting up their cloud infrastructure.
This seminar will explore the key challenges relating to data and cybersecurity, focusing on the legal, practical challenges and technical challenges facing European SMEs typically. Companies from all sectors are invited to join this webinar, although companies consumer/retail, creative and digital services, education, healthcare, and tech are likely to find the session particularly valuable.
You can find the recorded webinar on Youtube:
Agenda: 10:30-12:00 (Brussels) | 16:30-18:00 (Beijing)
10:30 – 10:40 (BE): Welcome notes, introduction of the EU SME Centre & setting the scene
Mark Hedley, Director, Knowledge Economy, CBBC
10:40 – 11:10 (BE): Cybersecurity and Data Protection and Compliance in China
Mark Schaub - International Partner, King & Wood Mallesons
11:10 – 11:40 (BE): Connectivity and Data Sharing Challenges When Operating in China
William Browne, Account Director, China Mobile International
11:40– 12:00 (BE): Q&A