Date :

Jun 25, 9:00 am - 1:00 pm, 2018
Venue :

Voka – Kamer van Koophandel Mechelen-Kempen
Address :

Onze-Lieve-Vrouwestraat 85, 2800 Mechelen
Pay method :

Pay before the event
Contact :

petra.van.bouwelen@voka.be
After Helsinki, Frankfurt, Sofia, Budapest, Zagreb, Athens, Stockholm the experts of the EU SME Centre of Beijing also land in Mechelen to inform companies about how to reach Chinese consumers via a Cross-Border E-Commerce Shop in WeChat. They will not only explain the procedures, supply chains, but also share first-hand experience and a number of case studies!
The EU SME Centre, Voka – Chamber of Commerce & Industry Mechelen-Kempen, the Belgian-Chinese Chamber, BENCHAM and Horsten International are delighted to invite you to a half-day seminar in Mechelen on June 25.
Finding a competent importer or distributor, setting up a subsidiary in China, listing the products in well-known Chinese e-commerce platforms is difficult and expensive. With this training you will know how to set up your own cross-border shop in WeChat, its cost, the return on investment, and how to operate such cross-border shop by which you reach your consumers directly!
Agenda
Registration
Welcome remark
Welcome by Petra Van Bouwelen, International Business Development Manager, Voka Mechelen-Kempen
Introduction by Bart Horsten, CEO Horsten International
Background
Cross-Border is Booming
WeChat's Unparalleled Success in China
Pilot Free -Trade Zones
Consumption as the Lever to Lift China's Economy
Reaction to the Negative Effects of Inefficient General Trade
Making China Inspection and Quarantine (CIQ)Part of the Solution
A More Discerning Middle Class
The Supply Chain
The Upstream Flow of Goods to the Chinese Consumer
The downstream Flow of Payments to the EU Shop Owner
Returns
The Building Blocks
The WeChat Account
The WeChat Shop
Consumer Payment Options
Warehouse and Logistics Operator at the FTZ
Foreign Gateway to China's Payment Providers
The Procedure
The Cross-Border Authorized List
Trademark Registration
Selecting a Pilot Free Trade Zone
Select a Logistics Operator
Registering the Product at China Inspection and Quarantine
Open a WeChat Official Account
Set up the WeChat Store
Integrating a Payment Method with the WeChat Store
Open a Bank Account in China
Selecting a Payment Gateway
The Pros and Cons of a CBEC Shop in WeChat for EU SMEs
The Missing Piece: Digital Marketing
Regulatory Aspects
Real Cases in Action
Baby Care Category – SME from Ireland
Costs
Return on Investment
Q&A
Participant fee
65 EUR (VAT excl) for members and non-members of Voka
Registration
Please click here to sign up.
Who should attend
For businesses involved in importing, exporting and trade, or professional considering to help one's company to explore this model.
Language of the seminar: English
Coffee break and time to visit the info stands: at 10h30
Cancellation conditions
Cancellation of your registration is only possible in writing (by e-mail) up to 2 calendar days before the start of the seminar. 2 days before the start of the seminar the full registration fee will remain due. Your place may, however, always be taken by a colleague.
Contact
Petra Van Bouwelen, mobile +32 476 909 909, petra.van.bouwelen@voka.be
About the Experts
Rafael Jimenez
Business Development Advisor, EU SME Centre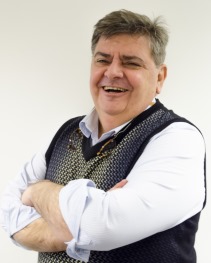 China expertise: market entry strategy, start-ups, SME business planning, streamlining costs, new business channels and local partners
With more than six years' hands-on experience in managing a business in China, Rafael offers advice for European SMEs in developing practical market entry strategies in the country. Following a career at a senior level within the F&B and ICT industry, he arrived in China in 2009 as Director of a Spanish F&B company involved in the restaurant and trade business. He helped the company set up a Wholly Foreign Owned Enterprise (WFOE) in China, ran operations for three years and led a team of more than 100 employees. More recently he was Shanghai Office Director at a Management Consultancy Firm.
Brian Goff, WeChat Expert for the EU SME Centre and co-founder of Emerald Green Baby

Since 2014 Brian has been exporting to China with the company he co-founded, Emerald Green baby ltd. He has travelled to China several times a year and has built up an expert knowledge of the online Chinese market as well as establishing strong Chinese business contacts.
Brian's focus is on cross-border e-commerce (CBEC) and the company's logistics are based in the Shanghai FTZ giving him a unique insight into the CBEC market and ideally placed to assist European SME's who wish to enter the Chinese market.
In addition to his Chinese business Brian has founded, managed and sold several multimillion euro companies in the food and restaurant sectors and currently owns several restaurants in Ireland.