Date & Time (Beijing) :

Apr 24, 2:00 pm - 6:45 pm, 2016
Date & Time (Brussels) :

Jan 1, All day, 1970
Venue :

The Design Service Center DSC 歌华创意设计服务中心
Address :

13th Floor, Section A, GeHua Plaza, Qinglong Hutong, Dongcheng District, Beijing 北京市东城区青龙胡同一号歌华大厦A座13 层
Contact :

nicholezuo@chinachannel.co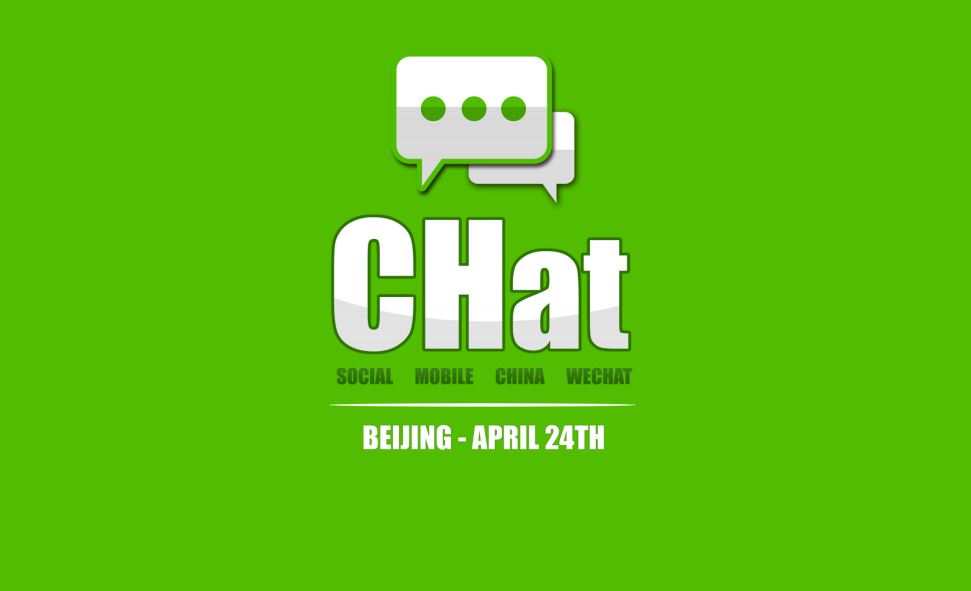 The EU SME Centre invites you to join CHat on April 24th in Beijing, a half day conference dedicated to China's leading social media platform WeChat. The event is organised by China Channel and WalktheChat, and will bring Beijing's top English language speakers and experts to one place. A celebration of all things WeChat, CHat is a place to network, learn and have fun.
Presentations from top WeChat marketing and technical experts

Practical workshops throughout the day with detailed, actionable content

Booth display areas featuring the latest WeChat products and services

Live interview with the owner of WeChat's most successful English language account

Interactive WeChat activities and games

Expert panel discussion

Drinks and networking
Interested in WeChat? Then you will not want to miss this event.
Event Attendees
Early Bird Tickets: 180 RMB
Late Tickets (after 20th April): 250 RMB
Booth Display (Limited to 9)
Early Bird: 2,000 RMB
Normal Price: 3,000 RMB
Expert Speakers
Andrew Schorr
Topic: Global Messenger Trends - WeChat, WhatsApp, FB Messenger
Andrew is the founder and CEO of Grata, a company helping
businesses run customer service and sales on WeChat. Grata is a
500 Startups-backed company honored as Web in Travel's Startup
of the Year.
Alexis Bonhomme
Topic: Luxury Brands on WeChat
Alexis is the Co-Founder of CuriosityChina, digital and tech
company operating in Beijing, Shanghai, Hong-Kong and Paris.
CuriosityChina received several awards for their innovative
approach serving today +50 international brands across various
industries.
Sheng Pang
Topic: Gamification with WeChat
Founder & CEO of Juplus Interactive Technology. Sheng has
extensive experience in digital creativity, digital media, SEO, SEM,
Social media marketing. He delivers work for clients including
Mercedes Benz, Porsche and Unilever.
Thomas Graziani
Topic: WeChat Cross Border Payments
Co-founder of WeChat consulting and development agency
WalktheChat. Thomas builds innovative WeChat marketing
strategies and technical solutions for clients including Nestle and
the American NFL.
Rafael Jimenez
EU SME Centre Business Development Advisor
Topic: How EU SMEs Can Best Use WeChat for Business
With more than six years' hands-on experience in managing business in China, Rafael offers advice for European SMEs in developing practical market entry strategies in the country. Following a career at senior level within the F&B and ICT industry, he arrived in China in 2009 as Director of a Spanish F&B company involved in the restaurant and trade business. He helped the company set up a Wholly Foreign Owned Enterprise (WFOE) in China, ran operations for three years and led a team of more than 100 employees. More recently he was Shanghai Office Director at a Management Consultancy Firm.
Special Guest Interviews
Interviews with the mystery owners behind several massively successful WeChat accounts. Learn
how they built their followings and the challenges they faced.
Shameless: WeChat's most popular English language blogger. Shameless has by far the largest
following of any English language WeChat account.
KnowYourself: A hugely popular WeChat account that breaks complex psychological theory down
into understandable and actionable advice.
Contact
nicholezuo@chinachannel.co
Phone: 18701177353