Fecha :

Feb 26, 9:00 am - 12:30 pm, 2019
Venue :

Avenue des Arts - Kunstlaan 19 A/D 1000 Brussels
Non-member Price :

150 EUR
The Belgian-Chinese Chamber of Commerce (BCECC) and the EU SME Centre invite you to a half-day workshop on "E-Commerce in China", in Brussels on February 26th, 2019.
By 2020, the total number of Chinese internet users is expected to reach 80% of its total population; 70% of them will shop online. China's 'new normal' recognizes that domestic consumption will play a larger role in the economy. Meanwhile, Chinese consumers, driven by the fast-growing middle class, crave more goods from the EU.
Small EU businesses should be particularly aware of the rapid growth of e-commerce platforms in China which has diversified the entry modes to the country, providing them with more channels to sell to the market.
Join this workshop to learn the latest market updates on E-commerce in China, as well as the digital marketing tools to improve your e-commerce strategy. This workshop is designed for any brands or merchants with an E-commerce or digital projects on the Chinese market, entrepreneurs and E-commerce practitioners.
Agenda
9:00 – 9:30 Market Overview
Market Size & Performance
9:30 – 10:15 Selling Online in China
Modes of Selling Online
Third Party Platforms in China
Payment Methods
Logistics
10:15 – 10:30 Q&A
10:30 – 10:45 Coffee Break
11:00 – 11:30 Chinese Consumers
Market Trends
Consumer Behaviour
Top Selling Products
11:30 – 12:15 Digital Marketing
China Digital Trends
Social Media Landscape
Adapt to the Chinese Context
Use of KOLs
12:15 – 12:30 Q&A
Registration:
Participation fee to this workshop is 100€ (VAT excl.)/person for BCECC members, and 150€ (VAT excl.)/person for non-members.
Please fill in the registration form that you find
here
, before
February 22, 2019
.
Cancellation policy: Cancellations received after the registration deadline and "no-shows" will be charged in full.
About the Expert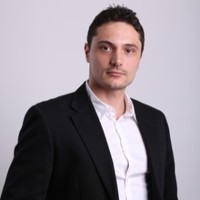 Domenico Di Liello, Business Development Advisor, EU SME Centre
Domenico has over 6 years of international business experience in advising foreign companies in market access and business development in China.
He has authored plenty of market reports and coordinated research projects analyzing the evolving economic and socio-cultural aspects of doing business in China.
Domenico has served European companies in the food and beverage, cosmetics and green tech industries.