Since it was established on September 29, 2013, the China (Shanghai) Pilot Free Trade Zone (FTZ) has carried out institutional reform and innovation in areas of investment, foreign trade, finance and post-filing supervision to form a legal framework for investment and trade within the zone.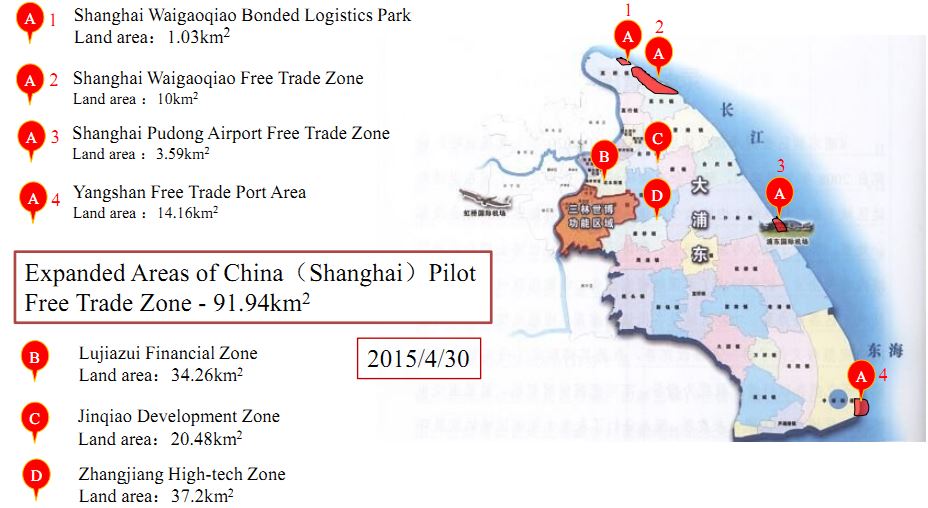 It has adopted the negative list for investment management, simplified foreign trade supervision procedures, promoted financial system reform to realize RMB capital account convertibility, and advocated post-filing supervision as a way to transform government functions.
The State Council decided on December 28, 2014 to introduce the practices of Shanghai FTZ nationwide and established free trade zones also in Guangdong, Tianjin and Fujian. It approved the expansion of Shanghai FTZ by incorporating Lujiazui Financial Area, Jinqiao Export Processing Zone, and Zhangjiang High Tech Park, enlarging the FTZ from 28.78 square kilometers to 120.72 square kilometers to provide more space for reform trials.
To learn recent updates on Shanghai Pilot Free Trade Zone, log in to download the slides on this page.
To visit the official website of Shanghai Pilot Free Trade Zone, click here.