Home
>
Knowledge Centre
> How to Export Pet Food Products to China: Market Access Requirements and Procedures
Based on the research and analysis given by the EU SME Centre's report on the Market for Pet Food, Supplies, and Services in China, dog and cat owners in urban areas of China are paying increasingly more attention to their pets' health and nutrition. Pet food, treats, supplies, services, as well as care and medical attention, are all seeing a surge in popularity amongst Chinese consumers. Companies operating within the pet product sector are witnessing an upward trend of sustainable growth, driven by consumers' preferences and demand for higher quality.
Within the pet product industry, the market for pet food is the largest and most developed component and the industry's primary driver of growth. The value of the pet food sector accounted for RMB 89.2 billion (€12.75 billion) in 2018 and reached RMB 128 billion (€18.3 billion) in 2021.[1] Major shopping festivals on Chinese e-commerce platforms are key indicators of market performance and trends. The latest numbers from Tmall on the 618 shopping festival[2] in 2022 show that sales of pet-related products increased by approximately 19% by RMB 2.7 billion (€390 million) from the previous year, with pet food sales accounting for 55% of the total industry sales.[3] Other key data points from Tmall's 2022 618 shopping festival include:
Over half of the 20 top-performing pet food brands are Chinese domestic brands, with Myfoodie (Chinese brand), Royal Canin and ORIJEN topping the market.
Staple food is the dominant segment, accounting for 76% of total pet food sales; pet treats and other functional feed represented the remaining.
Cats dominate the sales of pet food, increasing 30% to reach RMB 1 billion, against an increase of 3% and RMB 478 million for dog food.
The average sales price of pet-related products, including food, is increasing steadily at rates of 10% to 15% per year.
Therefore, the pet food sector offers significant opportunities for European brands. Yet, the market is very challenging, competitive, and highly regulated. This article provides a brief overview of the key requirements and processes for European brands looking to export pet food to China.
Definition, classification and export requirements
According to the Ministry of Agriculture and Rural Affairs (MARA), pet food, also commonly defined as pet feed, refers to pet food products that are industrially processed and produced. They are categorised into: (i) formula feeds for pets, (ii) additive premix feeds for pets, and (iii) other pet food.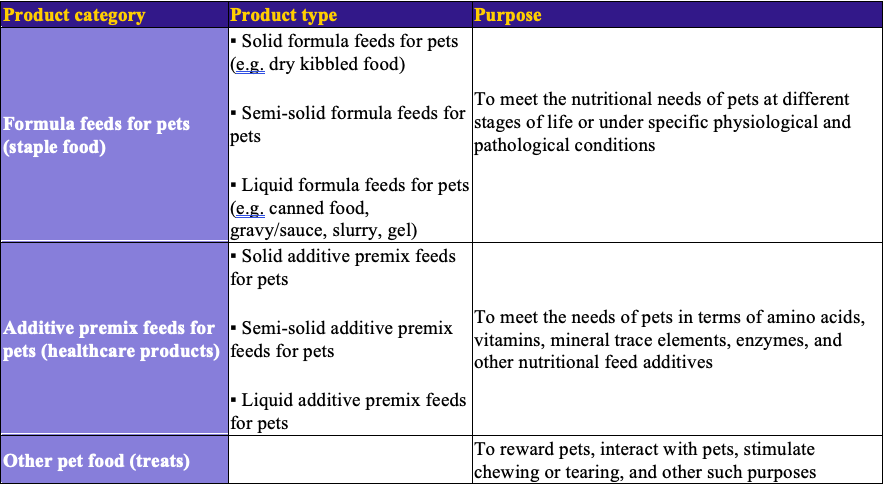 To export pet food to China, exporting companies face a series of requirements and restrictions. The access to the Chinese market is only allowed if both the specific products to be exported as well as the specific production establishment are officially registered through two main channels:
Pet food products must register with the Ministry of Agriculture and Rural Affairs (MARA)
Overseas pet food production establishments must register with the General Administration of Customs of China (GACC).
Pet food product registration: import registration license with MARA
According to the Administrative Measures on Pet Food (MARA Notice No. 20)[4] issued in 2018, overseas exporters of pet food must apply for an import registration license for the products they intend to export to China. This is a mandatory requirement for pet food products in the 'formula feeds for pets' (e.g. staple food) and 'additive premix feeds' categories; products in the 'other pet food' category (e.g. treats) are not required to register beforehand with MARA, but only with GACC (see next section).
The registration process with MARA – which must be completed before exporting the product to China for the first time – may take around 4 to 6 months, and is divided into four steps:
Step 1: Overseas exporters of pet food must appoint a registered and licensed domestic responsible person (DRP) in China, which could be their China-based subsidiaries or other external companies in China. The main function of the DRP is to initiate and coordinate the registration process and thus can be considered as an intermediary between the overseas exporter and MARA.
Step 2: The DRP is also responsible for conducting a first review of the product to be registered and its formula, helps with the classification process, supports the preparation and finally submits the registration dossier. The registration dossier must contain the following information in both English/local language and Chinese:
Application form;
DRP's business license;
Power of attorney (authorisation letter);
Certificate of free sale (original), or feed manufacture license issued by the competent authority in the product's country of origin;
Product of origin statement and product composition;
Production process description;
Product quality standards and test methods;
Physical and chemical properties of the product;
Original label and Chinese label of the product;
Product description (usage, application scope);
Registration certificates in other countries (if applicable).
Regarding the product composition (fifth bullet point) all ingredients included in the composition must be approved and published on a dedicated whitelist of food ingredients and additives, published by MARA.[5] If an ingredient or an additive is not on the whitelist, then it is not allowed to be used in products to be exported to China, until it is added to the whitelist by MARA. At the same time, the import of animal products from certain countries or regions to China may be temporarily suspended in case of disease outbreaks in the country of origin: GACC issues a negative list for this purpose.[6] For instance, pork-related products originating from several regions of Italy affected by swine vesicular disease (SVD) are included in the negative list, therefore pet food products from Italy containing such ingredients are not allowed to be exported to China.
Pet food products must also comply with China's labelling standards and requirements (ninth bullet point above). Specifically, overseas production facilities of pet food must follow the Chinese mandatory national standard GB 10648-2013 Feed Label to ensure compliance with their products' labels.[7] In general, twelve pieces of information need to be listed on the label,: (i) product name, (ii) product composition, (iii) guaranteed analytical value, (iv) net content, (v) storage conditions, (vi) use instructions, (vii) cautions, (viii) production date, (ix) expiry date, (x) name and address of producer and importer, (xi) test reporting number of quality reinspection, and (xii) registration license number. This last item will be received by MARA after the successful completion of the registration process.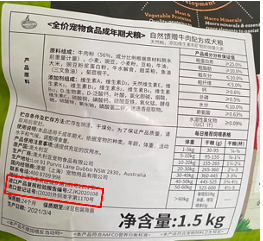 Example of the registration code (in red) on the label of pet formula feeds from Australia
Step 3: Once the registration dossier is completed, the DRP officially submits the dossier to MARA's dedicated service office.MARA typically reviews the dossier within 20 working days: if the dossier is complete and correct, a formal acceptance notice will be issued by MARA; if the dossier is incomplete or incorrect, additional information and documentation will be requested, and the DRP will need to submit a revised version of the dossier.
Step 4: Once the formal acceptance notification is received, the overseas exporter sends three batches of samples to a laboratory designated by MARA. The laboratory will conduct the sample quality verification test within three months and send the test results to MARA and the DRP. MARA will review the test results and issue the registration license within 10 working days if the product passes the testing. Once issued, the registration license is valid for 5 years.
Overseas production establishments: registration with GACC
After successful registration of products with MARA, overseas pet food manufacturers will also need to complete a second registration procedure with the General Administration of Customs in China (GACC). The registration process with GACC may take up to 1 year, and can be divided into two steps:
Step 1: As a starting point, the pet food manufacturer should confirm if the country where it is located has partial market access or full market access for pet food in China. The difference between the two market access categories lies in the timing at which GACC registration must be completed: manufacturers from countries with partial market access complete the registration before their pet food products can be exported to China; whereas those from countries with full market access can complete it either before or after exporting their pet food products to China. This can be verified in two ad hoc whitelists published by GACC for pet feed and pet additives.[8] As of June 2022, New Zealand is the only country enjoying full market access; 18 countries enjoying partial market access, including 9 EU Member States (Austria, Belgium, Czechia, Denmark, France, Germany, Italy, Netherlands, and Spain). If a country is not on the whitelist, its relevant competent authority responsible for pet food should submit a formal application to GACC.
Step 2: If the country has market access and therefore is effectively included on GACC's whitelist, the manufacturer of pet food must prepare a registration dossier for their specific establishment, in coordination with the competent authority of the country of origin – which submits the dossier to GACC on behalf of the manufacturer. The required information for the dossier varies according to the risk level of different feed products but generally includes:
General information of manufacturer (e.g., name, address);
Product information (product name, ingredient list, application scope);
Power of attorney (authorisation letter);
Official business license;
Overview of the exporting country or region-related laws, regulations and standards on animal epidemic prevention and hygiene management;
Documentation on the company`s control systems (e.g., laboratory testing systems, management, and technical personnel deployment, quarantine and veterinary hygiene control)
During the review process, GACC prepares a risk assessment questionnaire based on the information submitted by the manufacturer, covering aspects such as product safety and animal epidemic control systems; a designated expert may be dispatched by GACC to conduct an onsite visit and inspection of the applicant. For the overseas manufacturers that meet the requirements, GACC will grant the application and publish the updated list on its official website.
For more Information
To get a better understanding of the pet market in China for pet food, supplies and services, with detailed insights and analysis of the target customers, drivers of purchase decisions as well as the Chinese and international key competitors in the market, please download the EU SME Centres comprise report on the Market for Pet Food, Supplies, and Services in China here.
---