The EU SME Centre has now joined the Enterprise Europe Network (EEN) as an official network partner, providing European SMEs with further business support in terms of technology innovation and internationalisation to China.
In its role as EEN Partner in China, the Centre will be organising brokerage events to bring European and Chinese companies together, facilitating partnership agreements, and offering advice to European SMEs looking to do business in China.
Anne-Laure Maddy, Marketing and Communications Manager at the EU SME Centre, attended the kick-off meetings to welcome new partners to the network on April 15th and 16th in Brussels. "Being part of the EEN gives us an even closer relationship with the 600 partners in the EU and China" says Anne-Laure. "We are very excited to be part of this initiative and look forward to promoting the Network through our local stakeholders and SMEs.
The Centre will be working closely with partners on the ground, including the EU Project and Innovation Centre concentrating on the North and West of China.
The EU SME Centre helps European SMEs get ready for China. Financed by the European Union, the Centre provides practical information, confidential advice, training and business tools to better equip SMEs to develop their business and tackle challenges faced in the Chinese market. All services are available on the Centre's website after registration at: www.eusmecentre.org.cn
The Centre's six implementing partners are the China-Britain Business Council, the European Union Chamber of Commerce in China, the French Chamber of Commerce in China, the China-Italy Chamber of Commerce, the Benelux Chamber of Commerce and EUROCHAMBRES.
# # #
To find out more about the Enterprise Europe Network and how you can benefit, contact
EU SME Centre
Marketing & Communications Manager
Anne-Laure Maddy at
anne-laure.maddy@eusmecentre.org.cn.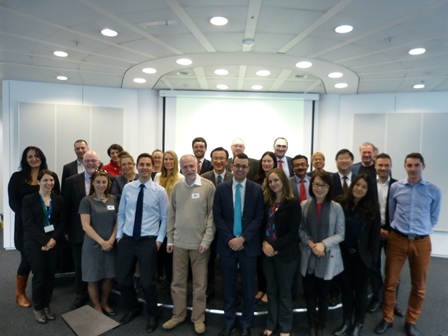 ( In the photo: EEN Partners attending the kick-off meetings at the Executive Agency for Small and Medium-sized Enterprises (EASME) in Brussels, April 2015.)
About EEN
EEN provides SMEs with services in terms of technology innovation, industrialisation, and trade support as the most influential service platform with the widest coverage. EEN involves more than 600 member organisations including chambers of commerce and industry, technology centres, universities, research institutes and development agencies at national, regional, provincial and municipal level as well as over 1 million SMEs from over 50 countries. Besides EU Member States, EEN covers other non-EU countries including China, Switzerland, Norway, Iceland, U.S.A., Israel, Russia, Japan, Mexico, and Chili, etc.