Home
>
Knowledge Centre
> Belgian SMEs Benefited from Centre's First Training Workshop on Food & Beverage Export
The EU SME Centre's first interactive training workshop on exporting food & beverage products to China was successfully organised with the Belgian-Chinese Economic and Commercial Council (BCECC) on May 6th in Brussels.
18 Belgian SMEs took part in the full-day training workshop that combined theories, practical case studies and interactive exercises.
Designed to provide step-by-step practical guidance for SMEs, the workshop consists of four modules:
Module 1: Doing Business in China, overview of the market, Chinese consumers, the F&B sector
Module 2: How to prepare for exporting, legislation, registration, standards
Module 3: Meeting the requirements, labelling, food additives, customs clearance
Module 4: Distribution
Module 5: Due Diligence, payment options, foreign exchange control, dispute settlement
The training was provided by EU SME Centre senior expert Jon Echanove, who has been advising European SMEs in accessing China's food and beverage market for over 10 years.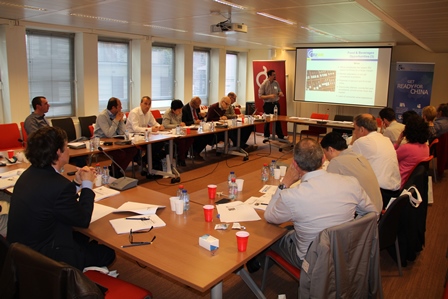 ( In the photo: Centre Expert
Jon Echanove
presented at the workshop in Brussels.)
To learn more about the Centre's training programme on exporting food & beverage products to China, click
here
.
If you have any related questions, do not hesitate to contact our
Advice Centre
.